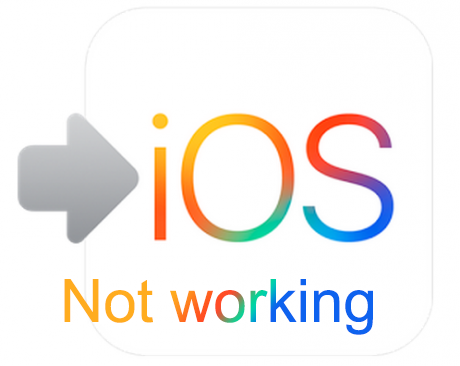 Move to iOS app is available for Android users to move data from Android to iPhone for free. This app is useful but it's not perfect. The transferring process is not that simple, and sometimes not even work or communicate with the iPhone.
If you got a new iPhone 11 or iPhone 11 Pro, and you encountered a problem while moving photos, messages or other files from your old Android device using Move to iOS app, this post may help you out.
How to Fix Move to iOS App Not Working?
Move to iOS works based on the Wi-Fi network, so it requires a stable network situation. If the network is in a bad condition, you may take a long time to finish the transferring. According to the feedback from the users on Google Play, besides communicating and connecting error, they also met problems including:
Unable to migrate. Try again later.
Stuck at "Moving items into place…", Stuck at 40% or 50%.
Stuck at "Move to iOS stuck on preparing".
so are there some tips people can take to fix the Move to iOS errors? Here I've made a collection of solutions from some authoritative sites and forums.
6 Proven Ways to Fix Move to iOS Errors?
Restart your mobiles phones.
Unselect the option for "Smart network switch" or something similar, such as Connections Optimizer. Or you can try to switch off your WiFi or switch between WiFi and mobile data on your android phone, which is said helpful to solve the issue of "Move to iOS could not communicate with device".
Turn your Android phone into Airplane Mode.
Don't use your devices while migrating data. This may get the transferring process interrupted by accident.
Reset Wi-Fi Network, or restart your router.
Reset network settings on your iPhone Settings app.
Before using Move to iOS, you should check compatibility and do preparation
You should check the items in the below list before you use Move to iOS app.
Move to iOS app requires Android 4.0 or higher.
It cannot be used to transfer from iOS to Android.
This app only works with transferring data from Android to a New or Reset iPhone.
Transferring may take you several hours, depends on the size of data you are migrating and the Wi-Fi network condition.
This post was first published in 2016, and the last update happened on September 20th, 2019. Be free to comment if you have any ideas on "Move to iOS app".