Apple's 2018 iPhone – iPhone XS and XS Max went on sale today. After getting the new iPhone XS, you may have tried using the Move to iOS app to get texts or other data from Android to the new iPhone, but the app may not work. Don't be worried. This post gives all new iPhone users the tips to fix these Move to iOS issues. And also the alternative ways to migrate data to the new phone.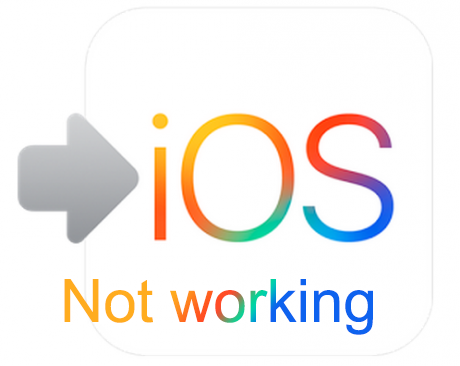 1. Move to iOS Issues You May Have Met
Move to iOS app is available on Google Play store for Android users to move data to their new bought iPhone device. And we've introduced this app before on how to transfer data from Samsung to iPhone. This app is nice because it is completely free.
But in fact, the transferring process is not that simple. It requires a stable Wi-Fi network and may take a long time. As a result, this app got some bad reviews and has an only 3 stars ratings on the Google Play store.
So what issues you may meet while using Move to iOS to transfer data from Android to your new iPhone XS or iPhone XS Max?
Move to iOS Cannot Connect iPhone
Pop up Error "Unable to migrate. Try again later".
Stuck at "Moving items into place…", Stuck at 40% or 50%.
Stuck at "Move to iOS stuck on preparing".
Move to iOS could not communicate with the device
2. Why Move to iOS Not Working?
We tried to understand the issues from some discussions on SNSs and the bad reviews on Google Play. We found most of the problems were caused by the bad Wi-Fi network and the bad compatibility of this Move to iOS app.  Besides, this app may not do something that people expected, such as transferring app data to a new device.
3. How to Fix Move to iOS Not Working Issues
After going through all issues, we found Below we collected some tips from various forums to fix this issue you met when transfer data from Android to iPhone. And if the tips cannot solve what you have encountered, you can leave your problem on the comment section for a future solution.
Method 1. Check Compatibility and Do Preparation
You should check the items in the below list before you use Move to iOS app.
Move to iOS app requires Android 4.0 or higher.
It cannot be used to transfer from iOS to Android.
This app only works with transferring data from Android to a New or Reset iPhone.
Transferring may take you several hours, depends on the size of data you are migrating and the Wi-Fi network condition.
Method 2. Simple Tips to Fix Move to iOS Not Working
Restart your mobiles phones.
Check network connection on both of your Android and iOS phones.
Check your android phone network settings and unselect the option for "Smart network switch" or something similar, such as Connections Optimizer. Or you can try to switch off your WiFi or switch between WiFi and mobile data on your android phone, which is said helpful to solve the issue of "Move to iOS could not communicate with device".
Turn your Android phone into airplane mode.