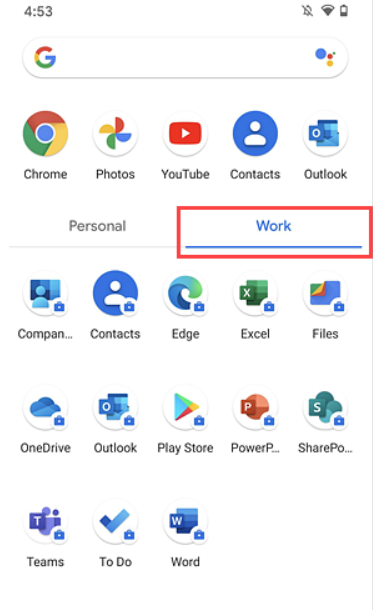 No need to separate work apps from your personal apps and want to uninstall Work Profile from your Android / Samsung device? Or just want to turn off work app notifications temporarily? You come to the right place.
Firstly, you'd better know the difference between 'Remove Work Profile' and 'Disable Work Profile'. And then we will go through the detailed steps on how to disable and remove the work profile. We've also attached screenshots and videos to ensure you know well how to make it.
The difference between 'Remove Work Profile' and 'Disable Work Profile'
"Remove Work Profile" and "Disable Work Profile" have distinct effects on your Android device:
Removing Work Profile is a permanent action that completely deletes the work profile from your device, along with all the associated work apps and their data. Once removed, the data cannot be retrieved.
Disabling Work Profile, on the other hand, is more of a pause. It will stop the work applications from running and prevent any work-related notifications from appearing. No data is deleted in this process, and the work profile can be resumed (re-enabled) at any time, allowing you to continue where you left off.
In summary, removing a work profile permanently deletes it, while disabling a work profile temporarily suspends its operation without data loss.
How to Permanently Delete Work Profile from Android Phone?
If you own an Android device and you don't want your previous organization or company to control any of the apps on your device, you can completely delete the work profile from your device.
To remove the profile, please follow the steps below. (Please note that some Android devices may have different paths to reach the 'Work Profile' settings. If you can't find it, you can search for "Work Profile" directly in the Settings search bar)
Open the Settings app on your Android device.

Settings app on Android device

Go to Accounts, and then swipe down to tap Remove work profile.

Account Settings on Android Device

Confirm the removal action by tapping the Delete to completely uninstall the work profile.

Remove work profile on Android device

Typically, this would also uninstall the Device Policy app from your Android device, and all app and app data managed by the work profile would be deleted.
Note: When attempting to access or alter work profile settings on your Android device, you may be prompted to enter your PIN or password for authorization. This security measure is designed to ensure that only the device's owner or authorized user can make changes to important settings.
And there is a nice YouTube video explaining another way to remove the work profile.
How to Temporarily Disable Work Profile on Android Device?
Sometimes when you are off work, you may like all notifications of your work apps to be silent. To turn off all notifications, you can disable your work profile temporarily, which allows you to use your own Android device without any interruptions from your work apps.
To turn off Work Profile on an Android device,
Open the Settings app on your Android device.
Go to Accounts, and then swipe down to tap Work profile settings.

Android work profile settings
Switch the Work profile toggle off.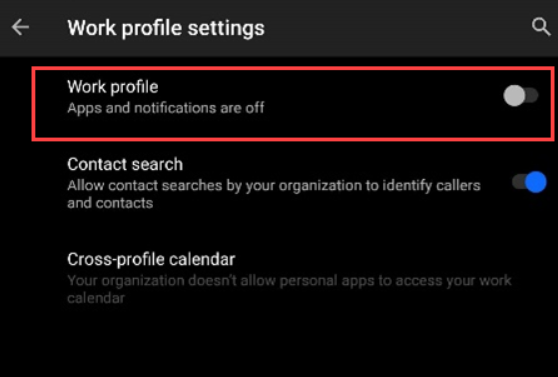 What to Do If You Cannot Remove or Disable Work Profile?
If you cannot remove or disable a work profile on your Android device, here are a few steps you can try:
Check Admin Rights: If the device is owned by your employer or is part of a corporate network, you might not have the necessary administrative rights to remove or disable the work profile on your device. You would need to contact your system administrator or IT for assistance.
Reboot Your Android Device: Sometimes a simple reboot can resolve minor issues. This can refresh the device's system and may allow you to disable the work profile.
Update Your Android Device: Ensure your device and its software are up-to-date. If there's an update available, install it and try again.
Contact Support: If you still can't remove the work profile, consider contacting the customer support of your device manufacturer or the support of the company who manages your work profile (e.g., your employer's IT department).
Factory Reset Your Android Device: As a last resort, if you are unable to disable or remove the work profile, you could perform a factory reset of your device. Be aware that this will delete all data, including apps, contacts, photos, etc., and restore the device to its original factory settings. Make sure to backup any important data before you do this.