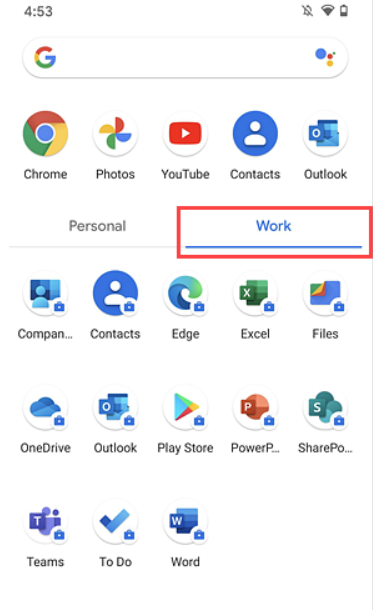 The difference between Remove and Disable is that removing the work profile will also delete those work apps and work app data from your device. But disabling won't. Disabling the work profile just stops the work apps from running to ensure there are no work notifications appearing to disturb you when it's the weekend.
How to Permanently Delete Work Profile from Android Phone?
If you own the Android device and you don't want your previous organization or company to control any of the apps on your device, you can completely delete the work profile from your device.
To remove the profile, please follow the steps below. (The method to delete the work profile may be different depending on the brand of your Android device. )
Open the Settings app on your Android device.

Settings app on Android device

Go to Accounts, and then swipe down to tap Remove work profile.

Account Settings on Android Device

Confirm the removal action by tapping the Delete to completely remove the work profile.

Remove work profile on Android device

Typically, this would also uninstall the Device Policy app from your Android device, and all app and app data managed by the work file would be deleted.
And there is a nice YouTube video explaining every step you need to remove the work file.
How to Temporarily Disable Work Profile on Android Device?
Sometimes when you are off work, you may like all notifications of your work apps to be silent. To turn off all notifications, you can disable your work profile temporarily, which allows you to use your own Android device without any interruptions from your work apps.
To turn off work profile on an Android device,
Open the Settings app on your Android device.
Go to Accounts, and then swipe down to tap Work profile settings.

Android work profile settings

 Switch the Work profile toggle off.

Disable work profile on Android device