Sometimes we realize that we no longer need a particular app. However, standard app removal methods on macOS do not completely eliminate all traces of the app – They merely delete the app without removing the associated preferences data, caches, downloaded files, and usage history.
What's worse is when we unexpectedly discover that the app is a malicious program which cannot be removed from your Mac computer. This is where advanced app uninstaller software comes in handy, as it can help you entirely delete such applications.
We've reviewed more than 10 software options used for removing apps on Mac computers. Following certain criteria, we've narrowed down and selected the top app uninstallers for your consideration.
Top 4 app uninstallers for Mac [Freeware Included]
1. AppCleaner – Completely-free Mac app uninstaller

FreeMacSoft has developed a popular free app remover for Mac users – AppCleaner. This freeware allows you to easily search for and eliminate unwanted apps, plugins, and widgets from your Mac. In addition, it enables you to simply drag and drop any undesired app for quick uninstallation.
Pros:
It offers a drag-and-drop feature for quick uninstallation.
The app is completely free to use.
It has a recovery feature for apps mistakenly deleted.
The latest version, 3.6.7, is compatible with the newest macOS Ventura.
Cons:
It lacks filters for identifying old and large apps.
It does not provide a filter to detect and remove the remnants of uninstalled apps.
It fails to remove some apps, labeling them as 'This app is protected'.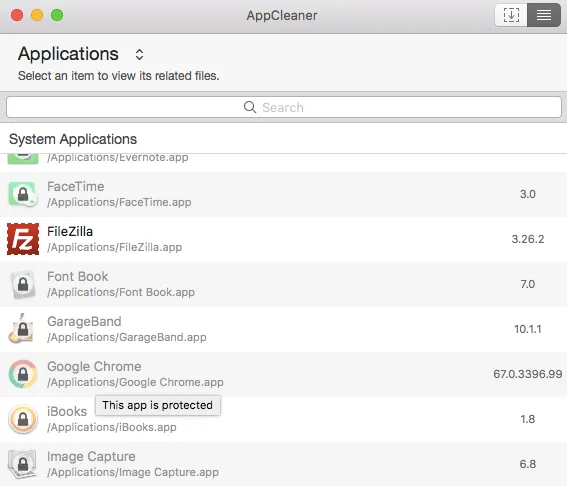 2. AppZapper –  perfect Mac app uninstaller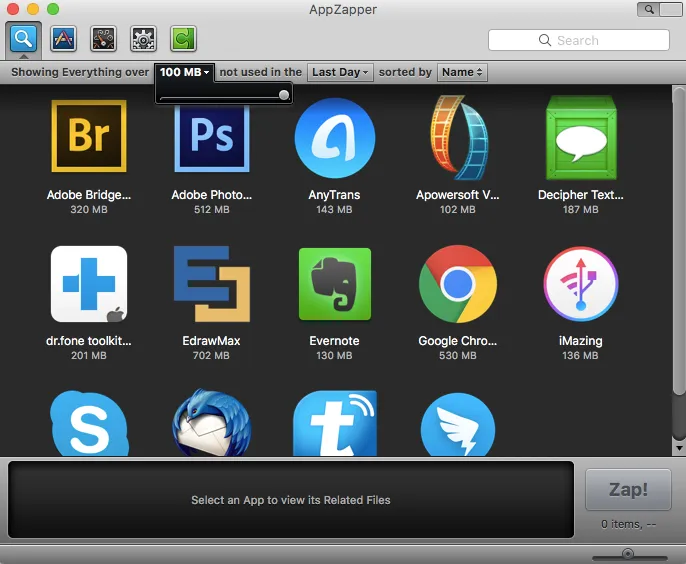 AppZapper has distinguished itself among other uninstaller software for macOS due to its simplistic design and proficient app removal capabilities. It performs thorough cleanups and can remove all unwanted apps along with their settings, widgets, plugins, etc. Just like AppCleaner, this software also utilizes the macOS drag and drop feature for easy use.
Pros:
It offers a drag-and-drop feature.
It has efficient filters to detect large-sized and old apps.
It provides an "Undo" feature to recover apps that were mistakenly deleted.
Cons:
The user interface might not be straightforward to some users due to its large app icons.
It lacks a feature to find and remove leftovers from uninstalled apps.
Its free version is limited to only 5 'zaps' (You can perform 5 app removals with AppZapper). The full version costs $19.95 or more.
3. CleanMyMac – Remove Not Only App and App Leftovers.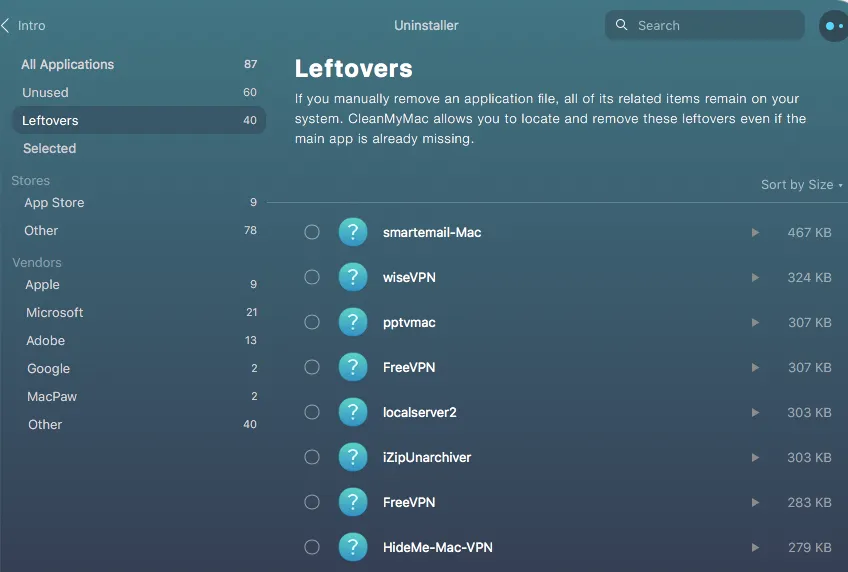 CleanMyMac gives you a lot of features to free up space on Mac. And its Uninstaller Tool could be one of the best tools for uninstalling Mac apps. It is capable of performing the function of uninstalling applications and their related files just like other app removers we listed.
Pros:
CleanMyMac X is able to find and remove only the leftover files. And it also has various labels that help you easily find old and large apps.
It provides several other useful features to clean your Mac storage to boost performance.
This app can find duplicate files on your mac and help you get rid of them. Its user interface is also very well designed and you can figure everything out intuitively.
Cons:
To use all features of CleanMyMac for free, you need to click "Start Free Trial" and add payment details. If you don't want to pay, remember to cancel within 7 days. If not, you'll be charged.
4. AppDelete
This is another app remover for Mac computers. AppDelete is very thorough in removing applications from your mac, and this is one of its major strengths. Where other software might overlook, this software acts. This software can help remove widgets, screensavers, preference panes, widgets, plugins, app settings, and so on.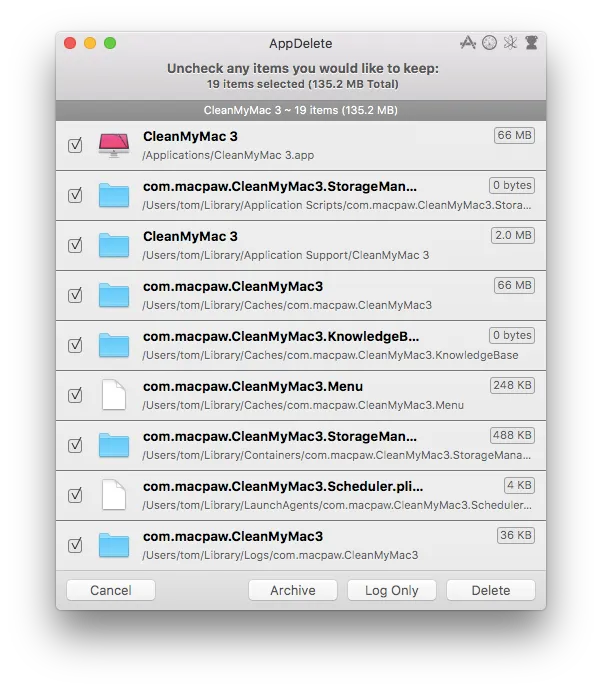 This application is also very flexible. It provides you with options as regards what to with the apps and files you want to remove. You can log such files, archive to a zip file, or completely remove such apps/files. Also, deleted apps are not removed straight away, but are kept in the recycle bin in case you made a mistake deletion.
Cons: This app is not a free one, and has a price of 5 – 7.99 dollars.
We didn't cover all AppCleaner similar programs in this post, like the apps TrashMe, AppTrap, CCleaner for Mac, Cleaner One, Nektony App Cleaner & Uninstaller, MacKeeper, BuhoCleaner, Advanced Uninstall Manager, MacBooster, and MacClean, since all of them are not freeware, and have almost the same features.
How to choose a qualified app uninstaller for Mac computer?
It's easy to know what is an uninstaller app, but it may be hard to select one top uninstaller app for your Mac, which is a totally different ball game. So what are the factors and criteria you should consider when choosing a top app uninstaller for your Mac? Let's check out the list below.
1. Level of App Cleanup
It is important for you to understand the level of cleanup that the software provides. Some software can remove all the files related to the unwanted app, while others just remove a few.
Also, some software cannot remove applications that run in the background. For the best App cleaning software, it should be in a top cleanup level to remove all leftover files.
2. Is It Safe to Use
Is it safe to use? You may ask this question before using a Mac uninstaller app. And this is one of the basic conditions all apps ought to have.
Actually, one app could be safe if the app has an official website with a real company address and online tech support, or it was recommended by some famous or trustworthy sites.
3. Computing Requirements
You can't use a Mac uninstaller program if it is not compatible with your computer. Since all apps have basic requirements for the computer system, such as storage and system version, in order to run stably and use computing resources normally.
And the best app remover should be compatible with all the popular Mac OS, including the newest macOS Ventura. And we picked out the top app by following this criterion.
4. User Interface and Experience
You need to consider the user interface and experience of your desired uninstaller software.
If one app is poorly designed, it may cost you a lot of time to figure out how to use it. But as one of the top programs, it should be time-saving and highly effective.
5. Cost-Effective
Most of the time the best app is not the free one since the software vendors will cost a lot to hire people to design and develop.
You'd better know the cost of these programs and find the most cost-effective one. And be careful that some apps require a one-time purchase license while some others require periodic subscriptions.
Surely,  there are some other factors you may consider while selecting a qualified mac app cleaner, including the customer service, the money-back policy, and so on.
Conclusion
There you have it, the top best app uninstaller for Mac We gathered since. We all need one of these programs on our computers in the new macOS Ventura as unwanted apps are inevitable. Selecting the best one for you should not be too much of a trouble, as this article has provided you with more than enough information to make the best decision.