You know that you can set up the lock-screen to protect all the data on phone and tablet. But this is only some basic setting to keep things safe, and it is still possible that your locked screen device be hacked by some people.
In order to keep private files and apps always be safe from malicious attack, you can also use some Android encryption apps to lock specific apps and files via passcode, pattern or fingerprint. Thus your important files will always be hidden from the unauthorized users, and be safe always.
How to choose the best Android File Encryption app?
There are so many file encryption apps on the Google Play store or other Android app publishing platform. So how could you get the perfect one for you?
In general, the best Android File Encryption app ought to have the basic features to encrypt files, app and app data in usual methods like Passcode, Pattern, and Fingerprint. And it should support a wide range of Android operation system and phone brands, whether the Samsung Galaxy Note 10 or the Google Pixel. And the most important, for me, I would like some free apps that have no ads inserted.
Best Android file encryption apps I collected in 2018 and 2019
This list is recently updated on June 2019 to provide you with the top encryption app for your Android devices.
And we removed the app like File Encryption (FileEnc) because we've found its encrypted image is still shown on Gallery unless you refresh the Gallery app. And the last update time of this app is Dec 29, 2014. And somebody suggested me to add the app Lock / Encrypt Files. But after testing this app, we found the design is so bad, and hard to use, although it could add a vault folder to hide and encrypt almost any file types like images, videos, downloads, etc.
SSE – File/Text Encryption & Password Vault (with in-app purchases)
S.S.E (Secret Space Encryptor) is an all-in-one Android encryption app with the functions of managing passwords and encrypting files & texts. By using various strong algorithms like AES and RC6, it could protect your messages, notes, and file from any unwanted readers.
To encrypt one file or folder is pretty simple, just open this app and go to File Encryptor, select file or folder, and tap Encrypt Dir. After input your password, the file/folder will be encrypted.
BluePrints AppLock 2018 (Free)
BluePrints AppLock is one of the best encryption apps for Android I've met. This app offers lots of free functions for Android users to protect privacy and personal information, like the function to hide images/videos and the feature to encrypt apps. I like it because of its simple interface.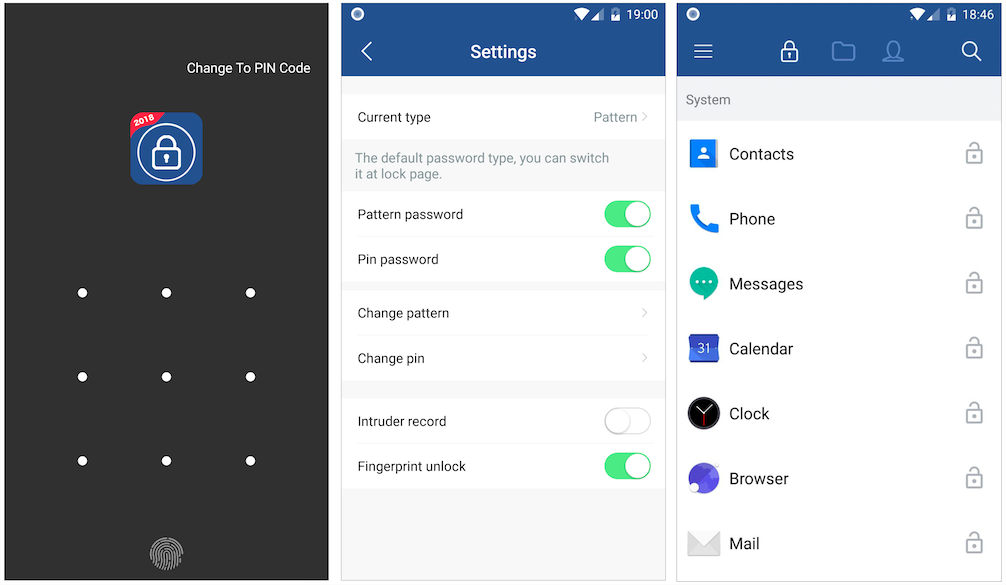 As one of the perfect app lockers, it can protect your Android apps from unauthorized persons by locking them with passcode, pattern, and fingerprint. Additionally, it can also record the head picture of intruders who attacks this app by keep typing wrong passcode.
ZenCrypt – Securely Encrypt Files
The ZenCrypt app was updated on January 17, 2019, and it is well compatible with the latest Android devices. With the encryption algorithm of 128-bit AES, CBC, and PKCS5 padding, it can protect your files and folders well with a passcode and even with your unique fingerprint. (Note: you'll have to update to the Pro version to use fingerprint to encrypt your files.)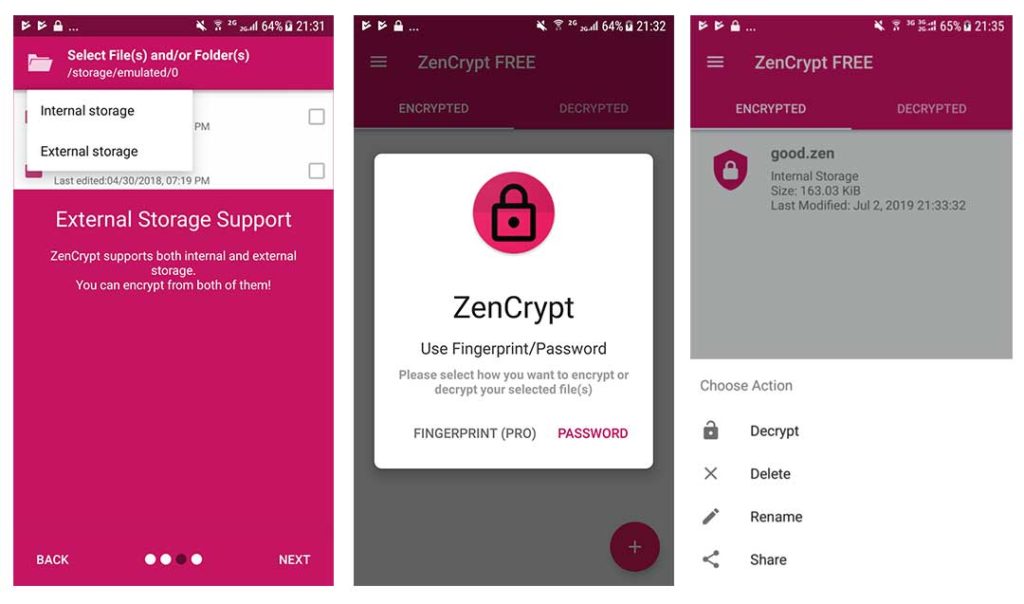 The app interface is easy to understand, so you can quickly get to know how to use this app to encrypt and decrypt your files on your Andriod phone.
EgoSecure Encryption Anywhere (Free)
EgoSecure Encryption Anywhere is one file manager with file encryption capabilities. It can encrypt any file with a password to protect it from unauthorized access when they are stored on the Android device or in cloud storage. And you can also transfer the encrypted files via Internet to your friends or family. After receiving, they can decrypt the file using the password you set via EgoSecure.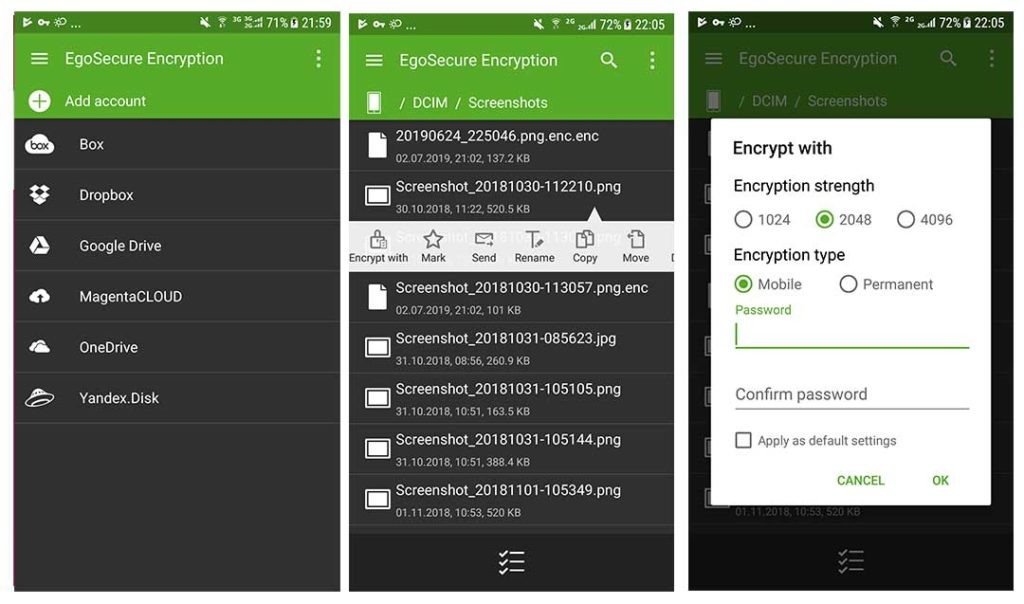 This Android file encrypts app is completely free and you can download it from Google. The disadvantage is that it doesn't give you the navigation or shortcuts to directly access often-used file types for a quick encryption/decryption.