With the world-leading cameras equipped, your iPhone enables you to take high-quality pictures of everything around, like the food, your family, as well as some personal selfies. Surely you may like some taken photos being hidden deep in the iOS system. (Yeah, maybe some sexy pics). Then how can you make it in a safe and secret way?
Congratulations! A very large number of apps can do the job.
Such as the Private Photo Vault. (It is able to lock your photos safe behind password PIN, and keep your files hidden from other.)
Surely, it is just one of free iPhone photo vault apps. And you will get more similar in this post. Just check my reviews of these apps and then download them from App Store to have a free trial.
Top 3 Free iPhone Photos Vault Apps Comparison
To help you easily choose one perfect app to hide your private pictures and videos, here we made a comparison table. It gives our rating of these photos vault apps with some details you may like to know.
Read on to know more about the screenshots, the advantages and the disadvantages of these photo vault apps via clicking the app's name.
This iPhone photo vault program is one of the free apps developed by Legendory Software Labs LLC to protect your personal pictures and videos hidden from others. It has more than 276 thousand users' reviews, with good ratings – near 5 stars. Thus it can be one of the top free Photo Vault app for iOS users.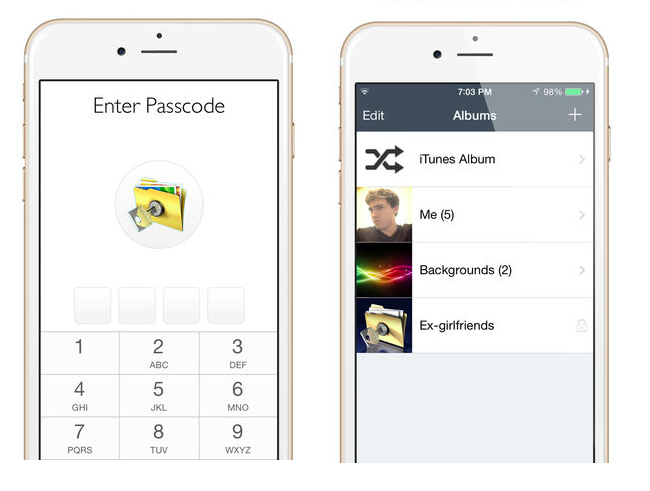 The Advantages
Private Photo Vault is in a small size of 41 MB. After you download and firstly run this app, it will ask you to create a Passcode to hide files, as well as suggest you set up recovery email in case of forgetting the PIN by accident, very considerable!
The free version allows you to create 2 albums including passcode-encrypted album to store your secret files,  even nudes or porn pictures, which means even some hacker got the passcode to access this app, they still cannot get photos in your passcode-protected album.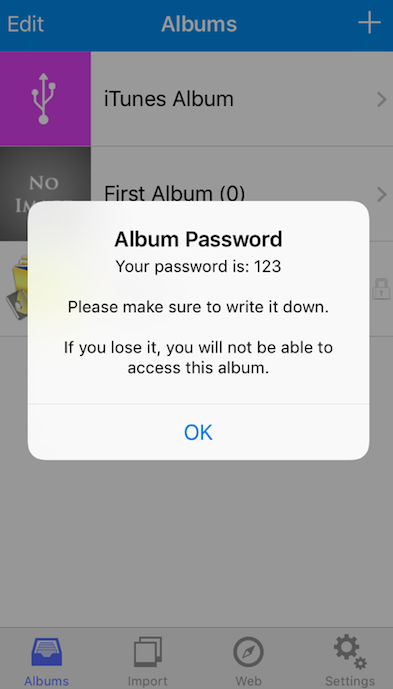 Besides passcode, Private Photo Vault also allows you to set Touch ID as an alternative to access your photo vaults.
The Disadvantages
The disadvantages of this app I found are the outdated interface design and the pop-up ads requiring you to get its pro version. However, it's not important if all photos and videos could safely be hidden there. After all, we need more basic features, not something gaudy.
About It's Paid Version
It has one pro version named Private Photos Vault Pro, costing $4.99, and offers you additional features like removing ads, creating unlimited albums, transferring photos wirelessly, break-in report and pattern lock, etc.
This app pretends to be one real calculator app appearing on your iPhone home screen. But actually, it is one of perfect photo vault apps that you can use to hide pictures, and even videos and contacts. And Secret Calculator also has a private browser that you can use to browse any sites you prefer.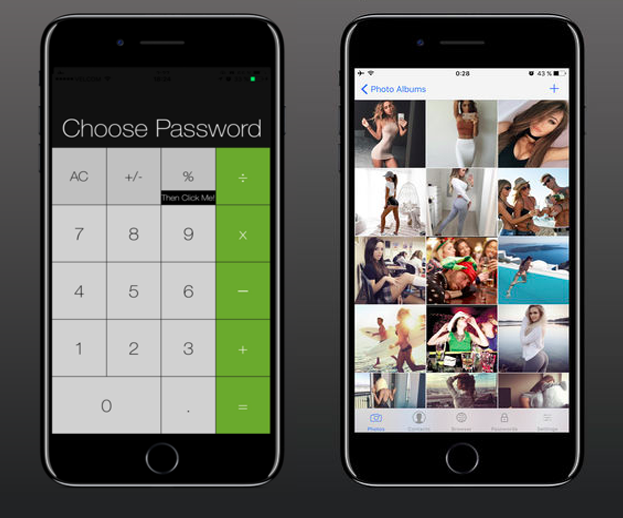 The Advantages
Has a fake interface.
Complete free.
Without In-App Purchases.
Without Built-in ads.
The Disadvantages
The passwords can't be reset.
No passwords restore methods.
the developer of Secret Calculator, Raman Kupryianchyk, also provides another similar app named Photo Vault: Hide Photos. And it has the same features, except there is no mask of a fake calculator.
Locker: Hide Photos, Hide Apps
Locker by SmoothMobile, LLC. is another near 5 stars, free photo vault program available on App Store. Similar to Private Photo Vault, Locker is also capable of locking down your pictures and videos using the passcode and touch ID.
It allows you to import photos and videos from photo library to this vault app. Or you can directly take photos using this app, and the photos will be stored in this secret app.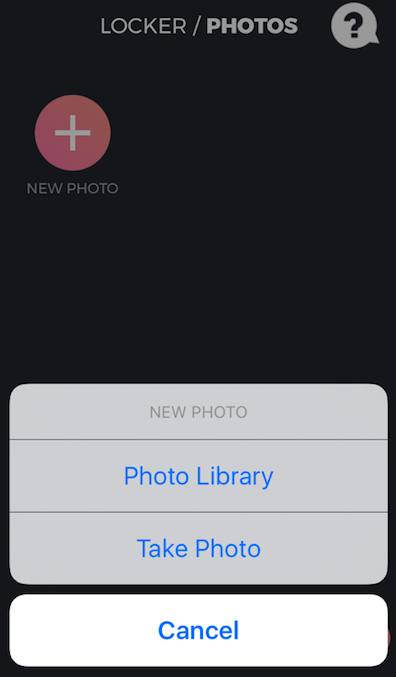 The Advantages
The photo vault feature is completely free.
Allows hiding photos, videos, and apps.
Supports passwords and fingerprint lock methods.
Simple to use, and nice design.
The Disadvantages
Has no restore method to recover your forgotten password.
You can't change the password.
How to Recover Photos / Password from iPhone Photo Vault Apps