I updated my iTunes to the version 12.7.3, connected my iPhone 8 to computer and went to update my iPhone to the new software version iOS 11.2.6. But, after clicking the device icon, I noticed that the "Documents & Data" takes up more than 50% of my iPhone storage, as it is shown on the below.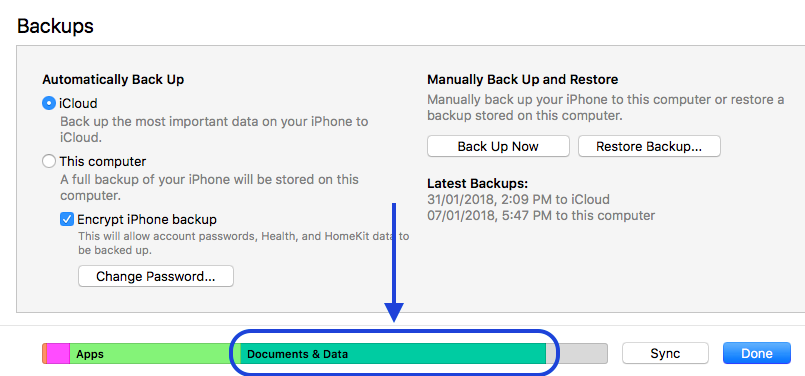 What is "Documents and Data" on iPhone storage bar?
I went though all categories on my iPhone storage bar and found there were 5 categories: Audio, Photos, Apps, Documents & Data and Free. On Apple official website, I get the full categories of iTunes storage bar:
Audio: Songs, audio podcasts, audiobooks, voice memos, and ringtones.
Video: Movies, music videos, and TV shows.
Photos: Content in your Photo Library, Camera Roll, and Photo Stream.
Apps: Installed apps. The content of the apps is listed under Documents & Data.
Books: iBooks books, audio books, and PDF files.
Documents & Data: Safari Offline Reading List, files stored within installed apps, and app content like contacts, calendars, messages, and emails (and their attachments).
Other: Settings, Siri voices, system data, and cached files.
As you can see on the list, the category "Documents & Data" includes app data (files and contents) and Safari Offline Reading List.
Why my iPhone "Documents and Data" is so huge?
I've checked the storage usages on my iPhone via Settings > General > iPhone Storage, and got that the apps takes up so many storage space of my iPhone, and some apps' data (documents and data) is so huge in size, which may be the answer to the question of "Why my "Documents & Data" on iTunes storage bar is that huge.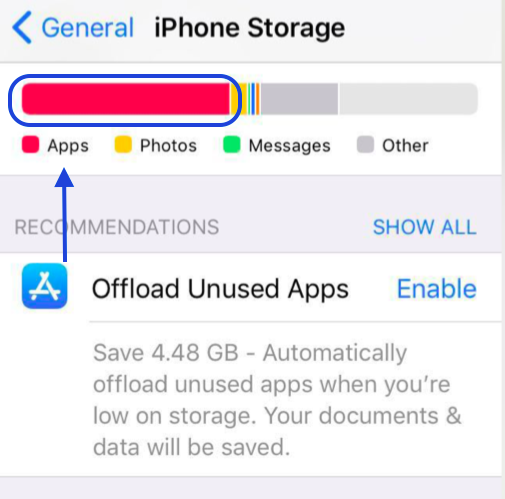 How to Clean up "Documents & Data" on iPhone Storage?
To free up "Documents & Data" space on my iPhone 8, I had to delete the caches, my downloaded files, history of some big sized apps, like youtube and twitter. After the deleting, my iPhone storage was slimmed down.