"You know after iOS 10.2 update, my mom's iPhone 6s has no sound. And am sure that it's not muted, and no headphone connected. Anyone has this kind of issue? Now confused and can't hear songs and all videos playing are silence!"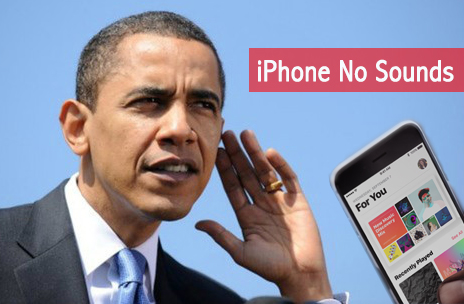 We use iPhone mostly because of its excellent voice sounds on playing music and videos. For music lover, no sounds on an iPhone could be a disaster. I'v encountered the similar problem on my iPhone 5 before, and cannot listen to music and no sound on call. And I gathered some methods, which may be the fixes of yours. Jus go on have a try.
Method 1. Try to force reset your device.
If you are using iPhone 7, hold on both volume down and sleep/wake buttons to reset your iPhone. If not, just hold home and sleep/wake buttons to have a force reset. This is so simple and maybe work to solve your problem.
Method 2. On the left of your device, make sure the Ring/Silent switch set to Ring.
Sometimes you may forget setting it to silence after a meeting or cinema watching. Check whether you have silence your iPhone on the left side.
Method 3. Go to Settings > Sounds, and make sure RINGER AND ALERTS not silence.
You may mistakenly down your volume on your device by pressing volume down button.
Method 4. Turn off Bluetooth and try again.
Method 5. Check your speaker on the bottom of your device and make sure it isn't blocked.
Method 6. Clean trash around your iPhone speaker.