Apple iCloud does well on syncing and backing up your data on iOS devices. If you enabled iCloud backup on your device, anytime you can restore your device to get data from iCloud backup. But what if you want only the voice memos recordings instead of all contents on iCloud backup?
This tutorial tells you how to extract only voice memos from iCloud without restoring your device. More precisely, we will give you one iOS backup extractor to get only voice memos off iCloud without using your device.
What you need?
You need one iCloud backup extractor. In this post, we use FoneLab, one iPhone data recovery tool, which allows you to extract only voice recordings without restoring your iOS device.
Before you begin
If you want to follow this post to have a try on FoneLab, you can download and install this app on your computer by clicking the below download buttons.
The steps to get voice memos off iCloud server
Step 1. Click Recover from iCloud backup files.
Run FoneLab on your computer. After it starts work, you can see 4 features on the left. Just click recover from iCloud backup files and sign in your iCloud with your Apple ID and password.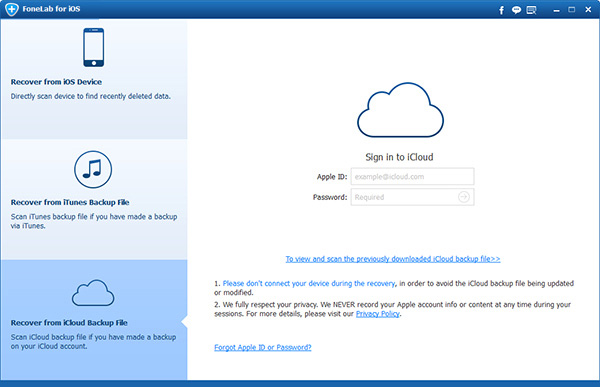 Step 2. Download backups to computer.
You will see a list of all backup files on your iCloud server after login, and the listed items shows the latest backup time of each backup and what device you backed up. Check the useful information, and click Download button to download the backup files.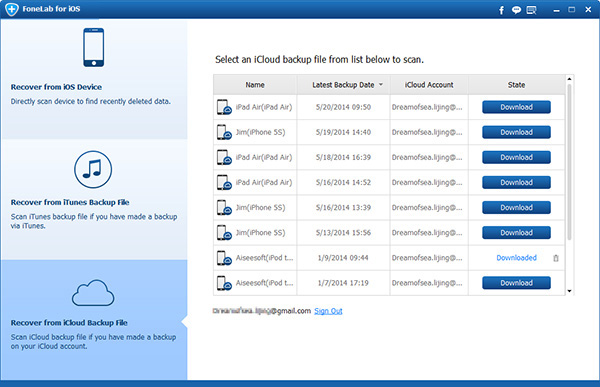 Note: It may cost your minutes or hours to download an iCloud backup. If you can't download backups, you can choose another apps and have a try. We've listed 12 iPhone data recovery apps.
Step 3. Scan backups to get voice memos off iCloud.
After download, you can click any backup name to start scan and preview the contents in the backup file. Then you can click voice memos item on the left side, and select recordings to extract. Remeber to click Recover button on the bottom left corner to extract all selected items to computer.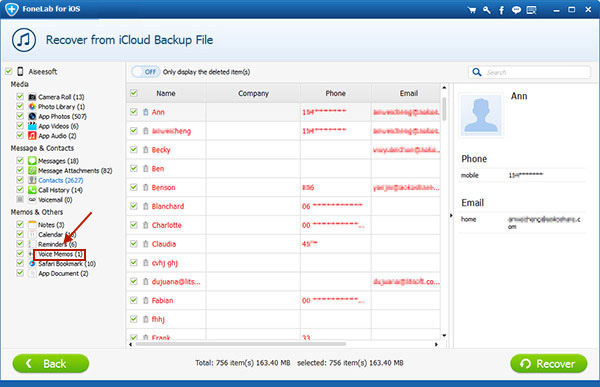 If you have any questions on this tutorial, please contact us!