My iPhone 7 got a short battery life after updating to iOS 12.2. So how to know the heatlth status of my battery and whether its time to change my iPhone battery? – from Apple Community
Bad battery life may be caused by several reasons, such as the bad habits of overnight charging and often draining the battery to Zero. Besides, iOS update may bring some bug making the system fail to recognize the real ability of your battery life. But generally, a bad battery always comes after a large number of charge cycles.
Your battery is designed to retain up to 80% of its original capacity at 500 complete charge cycles. – Apple Inc., posted
Whatever the reasons, it would be a bad experience for you to use a short battery life smartphone. Think about it shuts down itself after no more than 1-hour gaming or music listening. And you may have to rely on a portable charger or take one USB charging cable with you to make your mobile device always on. This is terrible!
So how to solve the battery problem?
Firstly, you should check the iPhone battery health status
Since the iOS 11.3, a Battery Health feature is built-in on iPhone, to make you know exactly the health status of your iPhone battery, in which you will know whether it's time to change the battery of your device.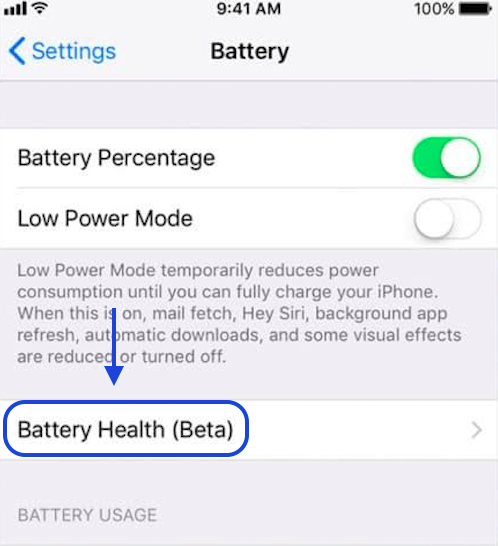 To check your iPhone battery health. Firstly, make sure your device was updated a software update (iOS 11.3 – iOS 12.2). And after tapping the Battery Health under Settings > Battery, you'll get the Battery Heath, including Battery Maximum Capacity and Peak Performance Capability.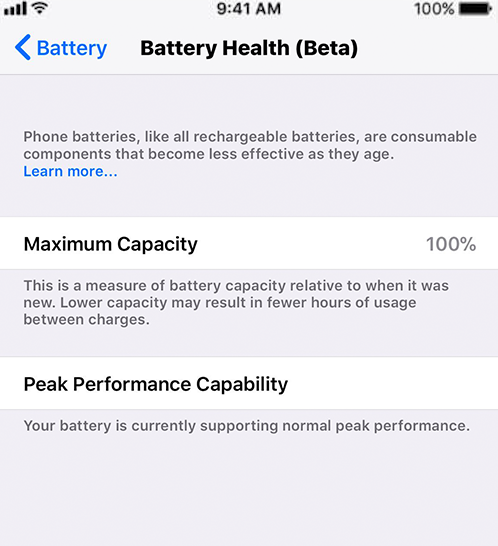 Normally, it will show a larger than 90% Maximum Capacity and a normal peak performance like what you can see on the above screenshot picture. But no all of you will get a good-condition battery on your iPhone or iPad.
If the battery full charge cycles exceed 500, the maximum capacity may get lower than 80%, which means your battery life will get shorter and shorter. If there is issue or error suddenly happening on your battery, the peak performance feature will report promptly. Besides, this battery health feature will also tell you what time your battery needs to be replaced.
So at what maximum capacity or what peak performance capacity should I change my iPhone battery?
If the Maximum Capacity is lower than 80%, or it reports abnormal peak performance, then maybe it's time to get your battery replaced.