For Mac users, it's easy to send and receive messages on computer if iPhone works in iOS 8.1+ and Mac is in OS X Yosemite+. However, it is not easy to transfer and backup messages from iPhone to Mac, especially when you want to backup lot's of message conversations from your iPhone to computer.
For PC, backing up messages to computer would be much more difficult. And below, we'll offer you 4 popular ways to transfer iPhone messages to computer for backup use.
1. Email Coped Messages to Computer
By using Email, you can send and share some texts in Messages (Not suitable to backup hundreds of messages, and not capable of saving attached files.). Just hold on one message,  copy the text to a new email, and then send the texts to another person or yourself. After receiving, your friend or you can get the messages, or print the email.
2. Screenshot Messages and Send from iPhone to Computer
You can save, backup, print some important Message conversation by taking some screenshots, no matter what iPhone you are using.
Step 1. Take messages as a screenshot on iPhone
It's supper easy to take screenshots on an iOS device, just press and hold the Sleep/Wake button and then immediately press and release the Home button. After, you'll find the screenshot in your Photos app on iPhone.
Step 2. Save messages screenshots to computer
Screenshots can be easily imported to any Mac and PC with some apps on your computer. On Mac, now the Photos and iPhoto could be some nice choice. And on a Windows PC, you can use the default "import photos and video" function. Other methods, such as email screenshots and download to computer from email.
You can share screenshots to Mac using Airdrop
You can Airdrop screenshots to anther iOS device or Mac computer. AirPrint would be the best choice if your printer supports this feature. Or you have to transfer them to computer, and then print these conversations.
3. Backup iPhone Messages using iTunes
If you want to backup data on your iPhone, iPad or iPod touch,  you can use Apple iTunes. And Apple says, an iPhone backup on iTunes always contains iMessages, SMS and MMS messages. And below are some detail about how to use iTunes to make a iPhone backup.
To Backup iPhone messages to computer using iTunes backup
You should download iTunes to your computer. The latest version of iTunes are iTunes 12.3.2, which is compatible with both Macintosh and Windows.
After installing, just connect your iPhone to iTunes with USB cable or Wi-Fi.
Go to "iTunes menu > File > Devices > Back Up" to backup all data on your iPhone, of course, the backup will contain your iMessages and text messages.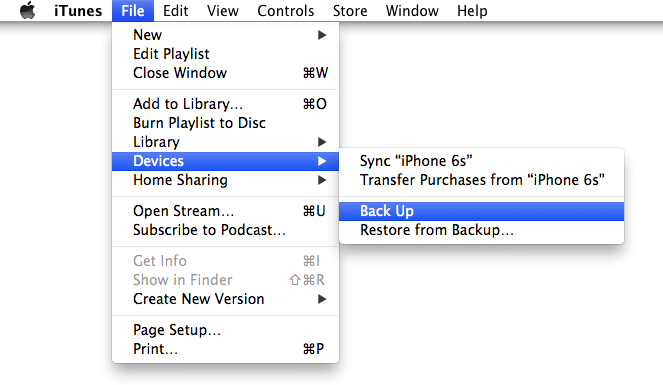 4. Backup Messages using Third-Part Apps
Some iPhone transfer software enables you to save iPhone message conversations as readable and printable file documents to your computer so that you can easily print messages from iPhone.