Problem: I bought a 128G MacBook in 2013. It worked well without any storage problem in the beginning years. But recently, I found the Mac disk space was always full although I've moved almost all my photos, videos, and documents to the iCloud.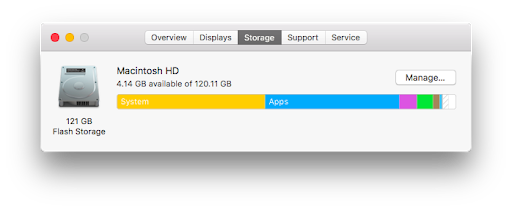 Mac storage usage bar showed the apps is almost taking up to 50GB. I have no choice but to look for ways to uninstall rarely-used and unwanted apps to slim down my computer for a good system healthy. As a result, I collected 4 methods which I think would be very helpful.
Long-Click to delete apps through LaunchPad
This is a way just like that of you delete an app on the iPhone. This way is fast but it is only suitable to delete apps that you downloaded from the Mac App Store.
Click LanuchPad and find the app you want to delete
Click and hold the app icon until it wiggles
Click the "X" to delete the app and confirm.
Drag-and-drop apps from the Application to Trash
Drag-and-Drop to Trash is a people-often-used method to remove files on the Mac computer. And if you want to remove a program on a Mac, just simply drag and drop its original app file to Trash bin from the Application folder.
Go to the Applications folder thought the Spotlight
Search the app you are going to remove
Direct drag and drop it to the Trash folder
Empty the Trash to permanently delete it from your Mac
Manually Delete App Leftovers
Both the above ways won't remove app leftovers like caches and preference files to fully clean the storage space of your hard drive.
Actually, while installing and using an app, its temporary files, caches, cookies, downloaded documents, or similar files may be generated into some Mac folders, including
~/Library
~/Library/Application Support
~/Library/Application Support/CrashReporter
~/Library/Caches
~/Library/Containers
~/Library/LaunchAgents
~/Library/Preferences
~/Library/PreferencePanes
And the below folders may also store the app leftover files if you installed the app using APK installer or the app required admin privileges when first running on Mac.
/Library/Extensions
/Library/LaunchAgents
/Library/LaunchDaemons
/Library/PreferencePanes
/Library/Preferences
To manually delete leftovers, just follow the below steps,
You may mistakenly delete some important files in this way if you don't know much about technique skills. So we list this method in the end.
Shut down the app you are going to remove. Make sure the app stops all processes in Activity Monitor, or you may not completely remove its leftovers.
Go to each of the above folders we mentioned above
Search the name of the app to find its leftovers.
Drag and drop all the leftover files to the Trash Bin and empty them.
Use Third-Party Mac App Uninstaller
Mac app uninstallers will help you easily pick out the old/large programs with leftover files to have a quick and complete erase. Besides, it will be safer than the way of your manually deleting.
Some of these third-party apps will provide you an easy-to-use interface, with which you can drag an app to know all its related files. And you can easily remove all your selected files by 1 click.
Can't delete the app because It is Open? Get solution!
Sometimes you may get an error saying "Can't delete the app because It is Open". Actually, this means the app process is still running in the background so that you can't remove it. To fix this problem, you should go to the Activity Monitor to stop the process.
Use Spotlight to search Activity Monitor.
Select the CPU tap and find the app that you can't delete.
Double-click the app and then quit it.
If it pops up a window asking you whether to force quit, just force quit it.
Now you can delete the app successfully.