I've experienced some tedious and time-consuming methods to print text messages on my iPhone. For instance, I took screenshots to record a part of my messages, saved them to the photos app, and then share them with a computer for printing. It worked but obviously is not an effective way to print messages.
Here I would like to share with you two easy-to-use apps to print text messages, iMessages and even WhatsApp chats from your iPhone or iPad, no matter for court or other reasons. [Coupons included]
Firstly, How Do These Apps Work to Print Text Messages?
In fact,  some iPhone transfer apps have the ability to extract text messages, iMessage, and WhatsApp conversations from iTunes backups as readable and printable document files like PDF and HTML.
Thus, after you backup your iPhone via iTunes, you are able to use these apps to extract the messages from the iTunes backup and then print them easily using the printer that is hooked up to your computer.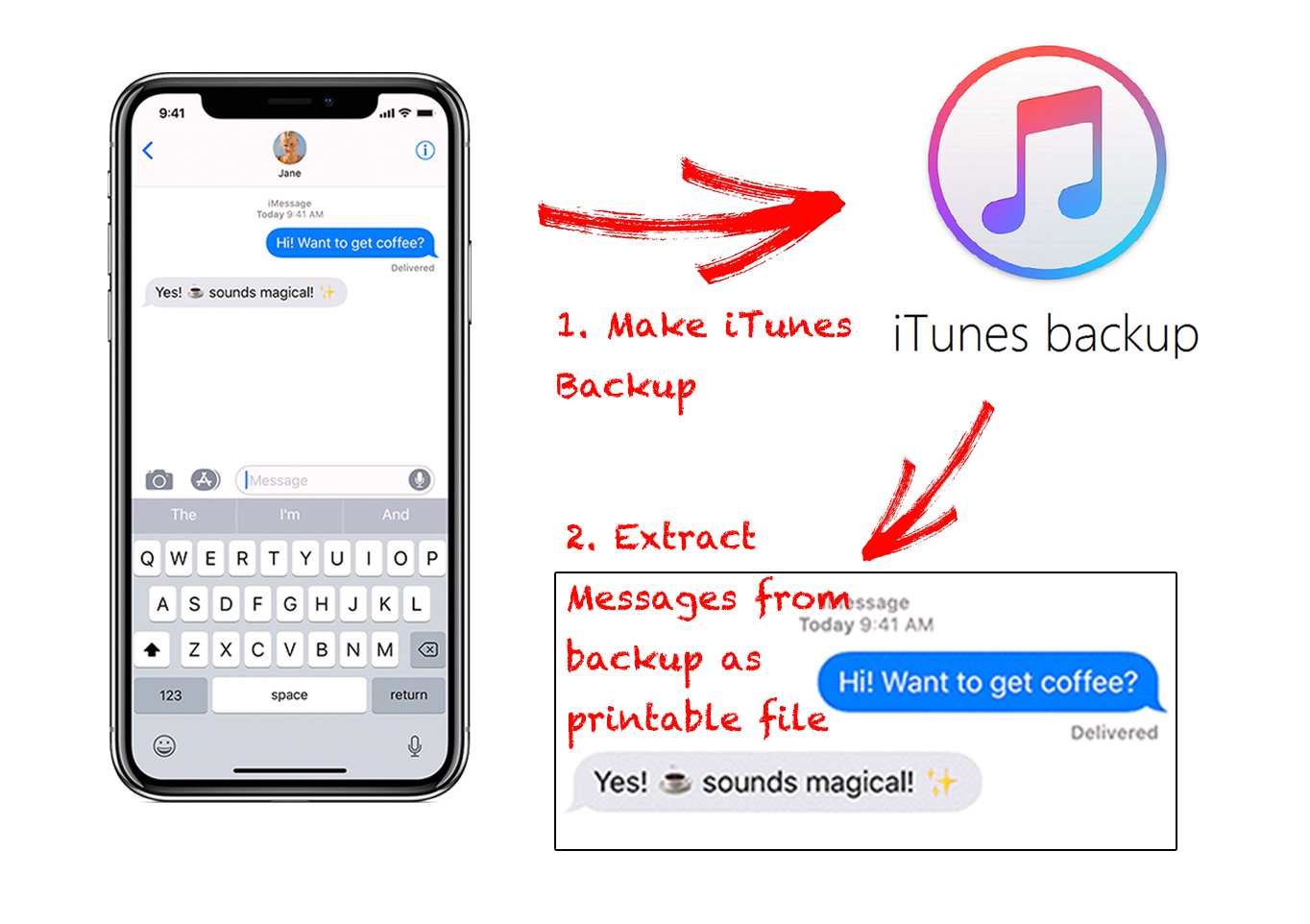 What Defines One Good App to Print Messages?
As one professional app for transferring and printing iPhone messages and WhatsApp, firstly it should be able to print all types of messages such as SMS, MMS, iMessages, WhatsApp chat history, and attachments. Besides, the process should be easy and simple to follow. At last, the price should be reasonable.
Almost all iPhone messages transfer apps work on Windows and Mac computers. Therefore, the best app should be compatible with the popular computer operating system, like Windows 11, Windows 10/8, and macOS.  In addition, it ought to support all popular iPhone generations, such as iPhone 14, iPhone 13, iPhone 12/11/XS/8/7/SE, etc.
Best App to Print Text Message on iPhone [2022 Updated]
iMazing is one of the best iPhone transfer apps that I've reviewed before. This app is the only one I found that provides the "Print" button that you can use to quickly print text messages, iMessages, and WhatsApp chats from iPhone.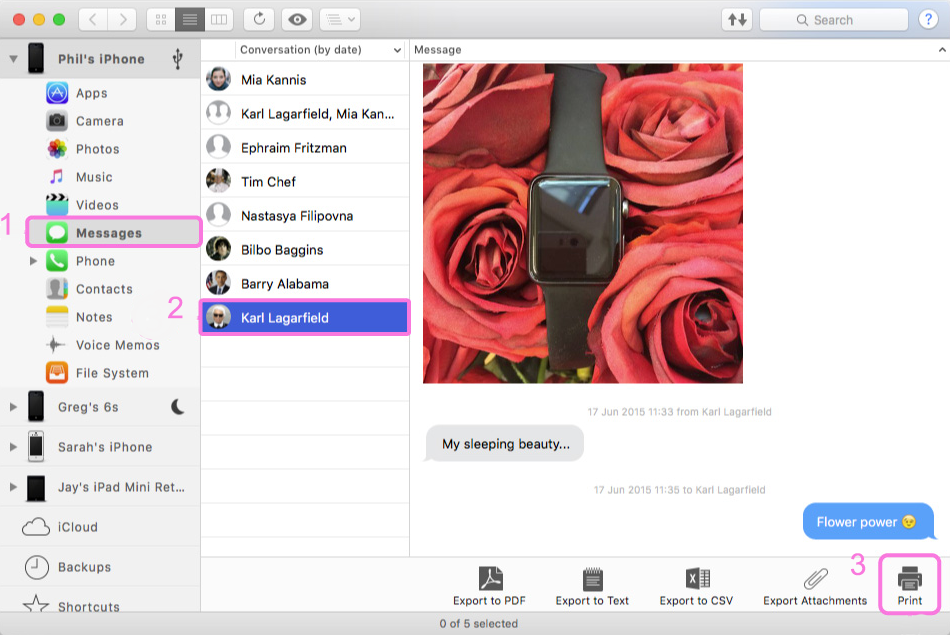 In addition,  iMazing also allows you to extract and preview text messages, iMessage from your iPhone backup, and let you save them as printable documents.
Download iMazing Free Trial
WhatsApp messages exporting and printing feature was added since iMazing 2. With this feature, you can preview, export, and 1-click print selected chats and attachments on WhatsApp.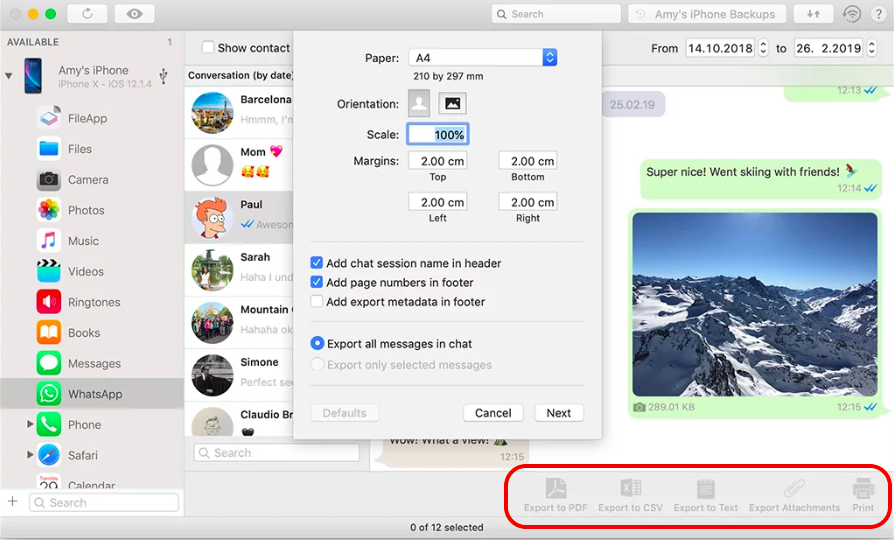 How to Export & Print iPhone Messages with iMazing [Video]
2. Decipher TextMessages
Decipher TextMessages is an excellent software tool I found to manage message conversations for iOS devices. This tool helps you transfer, print, and recover text messages from an iPhone or iPad. Compared to iMazing, Decipher Text Messages is much cheaper.
This app is developed by Decipher Tools which is located in San Francisco, USA. The company offers you the local phone number that you can use to get a quick response when you get any problem while using it to print messages.
Is Decipher Text Message Safe to Use?
Yes, Decipher TextMessages is safe to install. The official website is protected by SSL. Furthermore, Decipher TextMessage backs up your messages to your local computer, not to its cloud server. You can refer to the first part: How Do These Apps Work to Print Text Messages >
Therefore, all your attached files and information are stored safely on your computer. And nobody can access those files except they get your computer and know your lock passcode. If you don't trust this app, you can turn off Wi-Fi and then use it to print your texts.
How to print text messages from iPhone for court with Decipher
To print text messages, Decipher TextMessages will ask you to create an iPhone backup to the computer.
Next, it will automatically list all of the backups that you can choose to extract your text messages.
Just select the latest iPhone backup to preview text message conversations, and extract the message in PDF format for printing.
Download Decipher TextMessage