The information is quickly exchanged every day and people discuss the most important and sensitive matters using text messages. Some message conversations on Android built-in Messages may be so valuable for you to be printed out for legal matters of court, or just for backing up or sharing.
If you want to print messages from an Android phone, you can take a screenshot and then print it out as PDF. But it may not easy to print the whole message conversation with the attached files, the send time, and the contact info. That may be the reason why you need a professional app!
Best App to Print Text Messages from Android Phone
We know the exact struggle of not finding that perfect app that is compatible with your phone for message printing at the right time. So we tested some software and apps based on some metrics and finally made this top list.
1. Legal Text Collector – Designed Especially for Print Messages for Court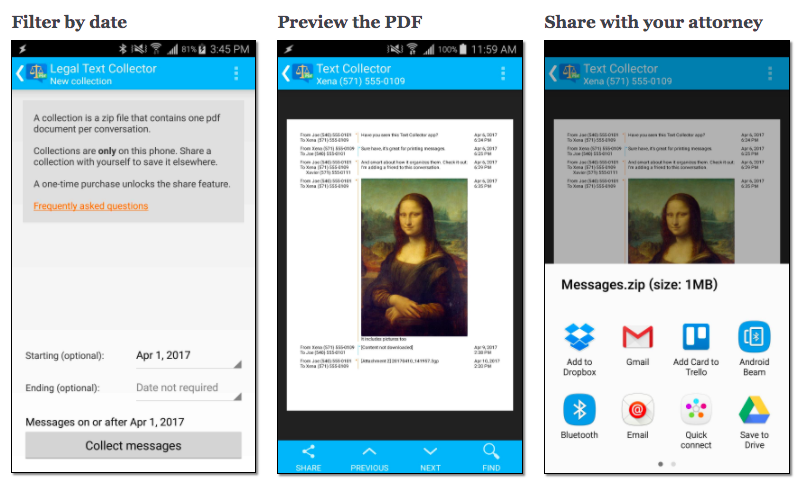 Legal Text Collector is specially developed to print Android SMS for court purposes. With this Android app, you can easily convert SMS, MMS, and some RCS with images/attaches to printable and shareable PDF files.
Below is the video tutorial on how to print text messages from Android using this app.
Pros
Supports SMS, MMS, and some types of RCS.
Supports filters by date and contact name
Files can be shared by DropBox
Supports print text images and attaches.
Cons
Won't print emoji.
$1.99 in-app purchase
2. SMS Backup+ – Print Android Text Messages for Free
SMS Backup+ is an app that you can download from Google Play Store, and it's one of the easiest apps to use. It is able to automatically backs up your messages and call logs to your Gmail so that you can print your messages.
How to Print Text Messages for Free using SMS Backup+ [Video]
Pros
This app lets you connect your phone with PC easily to print messages
This software is free so you use it without any cost
This open-source app lets you back up your messages, call history, and MMS to Gmail account.
Available on Gmail as email conversations, easy to access any time on the computer.
Cons
The developer of the app doesn't update the app regularly.
No updates can cause problems in-app to access the Gmail account.
Can't select only some specific conversations to backup.
Can't print message pictures and emoji.
This app gives many substantial benefits to an android user. You can use this app to print messages from Android Phone. You need to turn on IMAP for your Gmail account. Enabling IMAP is important as you can save your text messages easily.
3. Droid Transfer – Best App to Print Android Messages on PC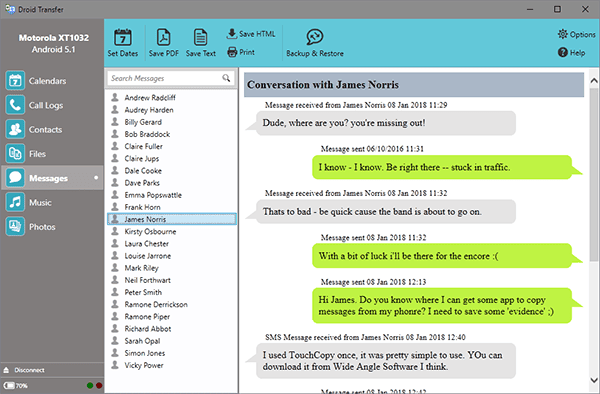 Droid Transfer is also one of the wonderful apps to print text messages from Android phones. It doesn't matter if you want to print the messages for your loved ones or the legal matters of courts.
Pros
This app can save even your emojis, images sent in messages.
You can print the text messages easily by sorting the date range.
You can also manage photos, songs, and so on.
Cons
Doesn't support Mac computer.
In the free version, copying music and photos is limited to 100 from Android to PC.
4. iMobie AnyDroid – Save Messages As HTML/TXT
AnyDroid by iMobie, originally called AnyTrans for Android, is a convenient and user-friendly Android data manage software running on Windows and Mac computer, with which you can easily export your Android text messages, contacts, call history, and calendar events as printable document formats like HTML. In this way, you can easily print your text messages.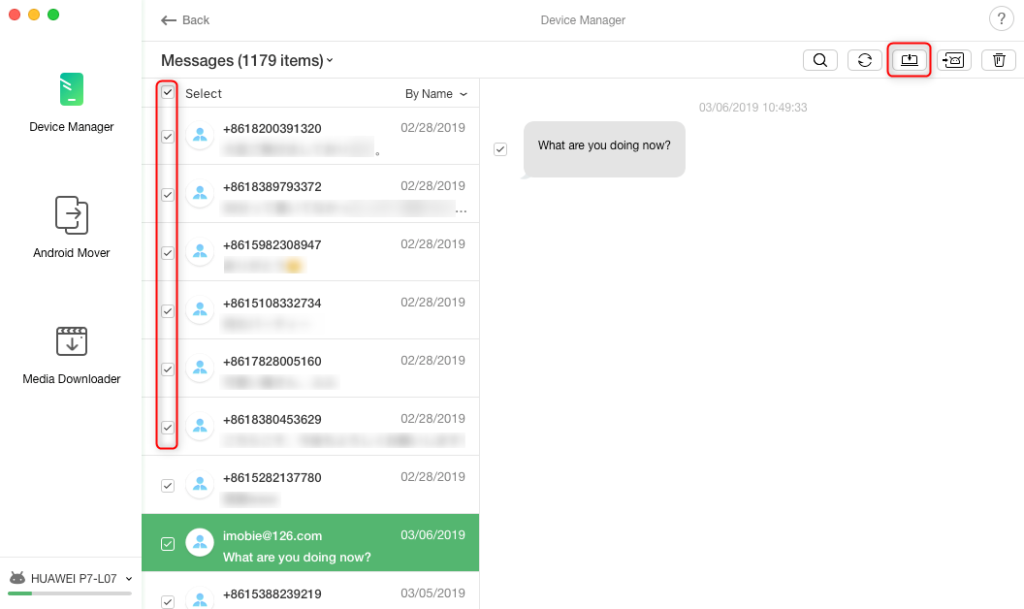 Furthermore, this program also lets you freely move data to your new Android device from another smartphone, iTunes backup, or iCloud, as well as give you a free way to download unlimited videos online.
Pros
Export message conversation as TXT and HTML.
Support connecting your Android device through Wi-Fi without using the USB cable.
Support download Youtube online videos directly to your computer.
Cons
The free version exists for 3 days only.
The trial version only lets you transfer a limited number of items per day.
You have to download AnyDroid app to your Android phone first if you want to connect via Wi-Fi.
4. Mobikin Assistance for Android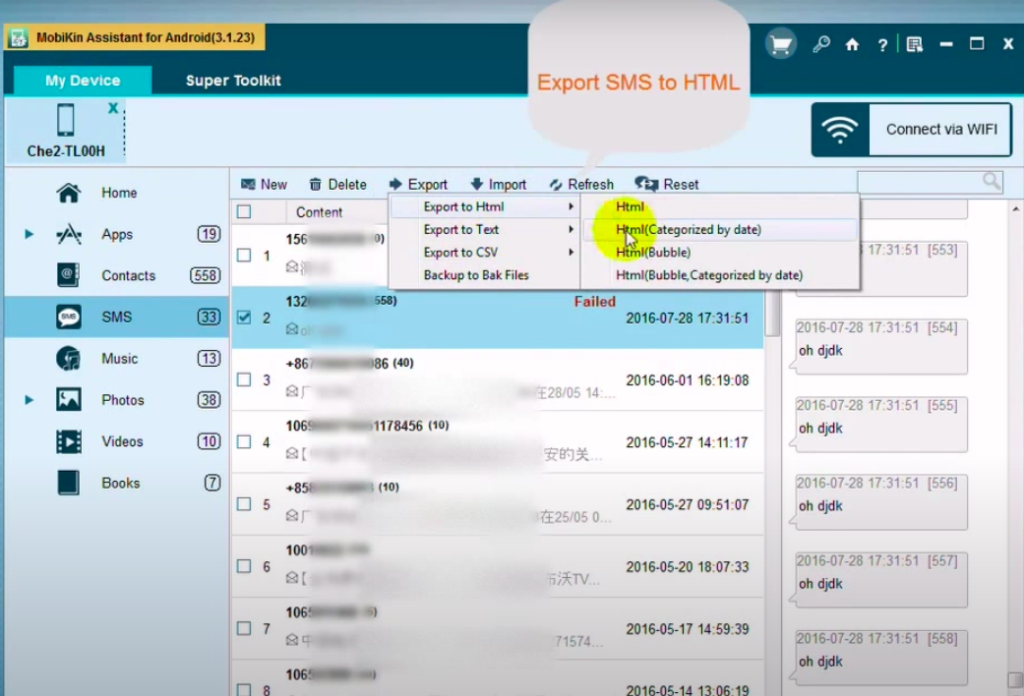 This Android file transfer tool will be another app that you can use to print messages from Android Phones. This software helps you transfer your important text messages to PC from an android phone with a simple click. This software also helps in restoring files, sending and receiving texts on the computer, and backup files.
Pros
This app is great for managing messages, contacts, and call logs.
Export conversations as HTML, CSV, and TXT.
This app lets your PC connect with Android phones in two ways; Wifi and USB cable.
This app supports Windows 10/8/7/XP/Vista and is also compatible with mac. Also supports all the Android devices.
Cons
You have to register with a license code to enjoy all features of this app.
It only supports transferring call logs in XML format
Also, this app requires a mobile app installed if you want to connect via Wi-Fi.
5. Coolmuster Android Assistant
Coolmuster Android Assistant is a safe technological advance app that can help people to export and print messages on Android phones. This app is compatible with almost all Android phones. You can import, export, delete, or resent text messages with this app.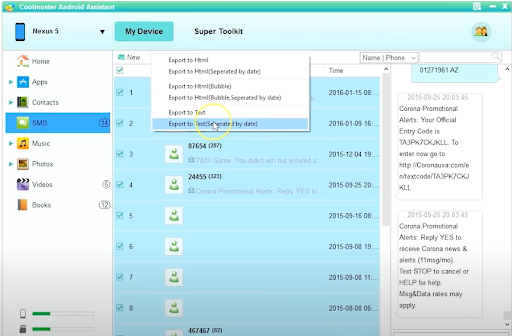 It also helps you to back up your messages and restore files just by 1 click. And this app could be considered as one of the best apps to print messages for Android.
Pros
Provides a search bar with which you can select some specific messages for printing.
It could export text messages as HTML and TXT files with time and contact info.
Cons
It didn't export the attached images.
Incompatibility issues can happen if you have backup data from another app and try to restore later from this tool.
7. Apowersoft Phone Manager
Just like AnyDroid and Droid Transfer, Apowersoft Phone Manager also provides you with a time-saving and convenient method to export Android text messages as printable documents for printing purposes. This software can be downloaded and installed on Windows and Mac and will export the message conversation as XML and Excel.
Pro
Export Android messages as XML and Excel.
Reply, send, forward, and edit text messages directly.
Backup and Restore your Android device.
Cons
Can't export chat history as PDF or HTML.
Won't print messages images.
How to choose a professional app to print messages from an Android phone?
The fact is that most of the easy to use and professional apps are not free. Therefore, when you decide to use or purchase an app to print text messages, there are some metrics you should consider in your mind.
1. System Compatibility
Firstly, the app should be compatible with your Android operating system. (You can find the compatibility from the specification of the app, and you can also directly download and have a try on the trial version of the application.)
Besides, some programs work on computers, so you'd better check whether it can be installed on your computer. (Normally, the professional programs will compatible with the recent versions of Windows and Mac)
2. Safe and Secure
Before allowing a third-party app to access your text messages, you should be sure the app itself is 100% safe. So you'd better download the program from the official website or Google Play.
3. Easy to Use
Remember that you need to find an app that is user-friendly and easy to use, which can make your work done within minutes.
The End
The fact cannot be ignored that business communication and every sensitive conversation take place on mobile phones now. When legal issues occur, Attorneys and law firm assistants require their clients to print messages for evidence.
This is crucial to present the printed messages before the judge as evidence for the hearing. Text messages print play a vital role as evidence in a trial. And all of the apps we provided above would do a good job to print messages from an Android phone. And we wish this post would be helpful.