Two years ago, I got a new MacBook Pro. It works well and perfect, but I found a confusing issue after my mac waking up from sleep mode, it cannot connect to the Wi-Fi network. Strange it was showing full signal on the Wi-Fi icon on the top right bar of the screen. But keep "Looking for Networks…". And I finally fixed it by deleting the Wi-Fi preferences file.
After googling this MacBook Wifi problem online, find this problem also happened on the new macOS Catalina system.
Don't install MacOS Catalina. Updated now WiFi doesn't work 🙃

— Damien Wilde (@iamdamienwilde) October 7, 2019
So confused, why not Apple takes it seriously and fixes this Wi-Fi problem? Here, I'd like to share some methods to fix these Wi-Fi problems.
Methods to Fix Wi-Fi Issues on MacBooks
1. Re-connect Wi-Fi on Mac
Someones tried and found this Wi-Fi issue can be easily fixed by turning Wi-Fi off and then turning it on. But it didn't work on my issue.
2. Restart MacBook
I followed some tutorial to restart my Mac to fix my Wifi issue. But it worked temporarily, and went into the same issue after Sleep Mode which makes me crazy!
3. Delete Wi-Fi preferences files
After turning off Wi-Fi, I went to the folder named SystemConfiguration by using Finder. The path is "/Library/Preferences/SystemConfiguration/".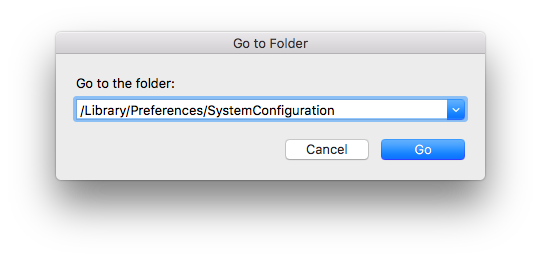 You can get the same window by using shortcut "Command+Shift+Go" or Finder > Go > Go to Folder…
On the folder, I deleted the preference files I list as below.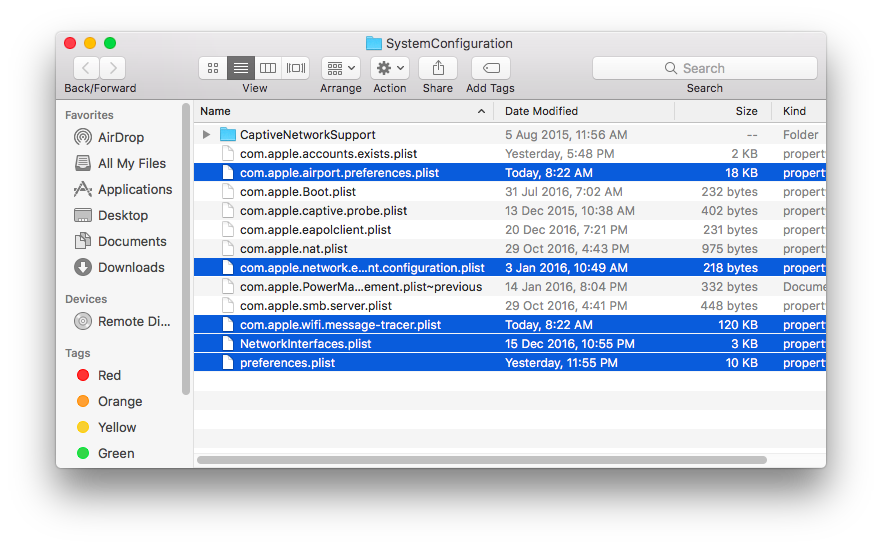 After, I followed to restart my MacBook and turn on Wi-Fi. And finally, my Wi-Fi issue on My MacBook Pro was solved. Thank God!
Note:
Before deleting, I backed up some important data from my device to a portable drive since I don't know what's going to happen on my Mac. I've experienced data loss on my device before.  And for data secure, you are suggested to do a back also.
4. Start in Safe Mode to fix "Wi-Fi doesn't work" on macOS Catalina
Apple replied to users to start their device in Safe Mode to fix the Wi-Fi problems. And this seems work.
To start up your Mac in safe mode, you should
Restart your Mac, and then press and hold "Shift" on your keyboard until the Apple logo appearing. After you release the key, you can log into your Mac and try to connect Wi-Fi. If you can connect, then just leave the safe mode by restarting your device without pressing any key.
Thanks for reaching out. We'd like to help. Please DM us the Mac model you're seeing this with. Do you get an error message when you try to connect?

Let's boot your Mac up in safe mode, and see if you can use the Wi-Fi there: https://t.co/YOgx6VP2MH https://t.co/GDrqU22YpT

— Apple Support (@AppleSupport) October 8, 2019
After booting in safe mode it allowed connection.

— Mr. Hughes (@marcus_jh) October 8, 2019