This is a real case of iPhone battery drain problem by @Rangeesh from twitter,
@AppleSupport iPhone xsmax battery getting drain so fast without using the phone on later version of ios12.4 soon update the another version for this problem

— Rangeesh (@Rangees46941430) July 31, 2019
If you are also facing the battery drains fast, you will know how frustrating it should be, you will get a bad experience of game-playing and video-watching, and you may have to get an external battery charger with you, just in case that your iPhone turns off itself after the battery volume goes to zero.
This issue is common, whether on the old iPhone 7 or the brand-new iPhone XS Max. So why the iPhone battery dies so fast and how can you fix it? In this post, you'll get the answer.
Why Your iPhone Battery Drains So Fast?
It's hard to get the reason for an iPhone battery draining so fast because lots of factors determine how long a battery will last after a full charge. In order to explain why it happens, we listed all the possible reasons here.
Reason 1. Device Too Old.
Actually, just like humans, the battery has its limited lifespan. After some years of using, it will surely get a short life. As Apple said after 500 full charge cycles (about 1-2 years), the battery's performance will significantly go down. If your device is too old, its battery may get a bad health status.
Reason 2. Temperature Too Low.
Are you kidding me? No, this is the reason for some cases. iPhone uses the lithium-ion battery (LIB). According to a recent review about Temperature effect and thermal impact in lithium-ion batteries, the perfect temperature range for LIBs is 15 °C–35 °C. And if the temperature is below 0 °C, the performance of lithium-ion batteries will degrade. Usually, this case could happen in some high-latitude areas like Canada.
Reason 3. So Many Apps Are Running In Background.
Running multiple apps/games simultaneously will consume more power of the battery than usual use. Some apps may use GPS service in the background, some apps use notifications, and some apps are turned on and used automatically or manually.  If so many apps are running at the same time,  your iPhone battery will be quickly eaten up.
Reason 4. iPhone Battery Damaged
The battery may be damaged if you get it wet, drop it to hard ground, or put it in a so-cold or so-warm environment for a long time. iPhone provides you with the battery healthy checker on the Settings app. And if the maximum capacity of your battery is lower than 80%, you may need to get it replaced.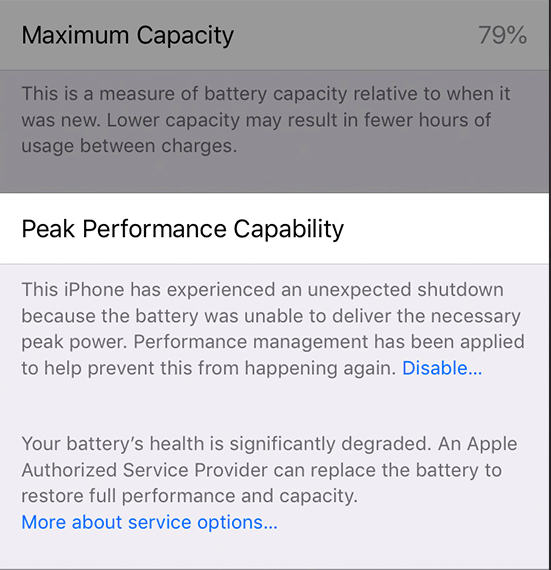 3 Tips to Fix iPhone Battery Drain Problems
There are some common ways to fix your battery problems. And you can have a try by following the list below.
Backup your device with iTunes on the computer and then restore your device with the iTunes backup.
Downgrade to previous iOS software. You should download an available iOS firmware for your device firstly and use iTunes to downgrade iOS software. Some people said this method works when he faces the battery issue after updating to iOS 12
Report this issue to Apple support and wait for bug fixed in the next software update.
Check your iPhone battery health status and decide whether to get the battery replaced.
How to Save Your iPhone Battery Life
We have to admit that there are more and more features going to eating your battery life in upcoming iOS 10 updates. If you don't know how to disable these features and you are using an old and outdated iOS device, the thing may get worse.
Step 1
Firstly, go to Settings > Battery to check which apps use your battery. You can find apps that are eating your battery aggressively and secretly. Just do something to stop this happen.
Step 2
Check signal strength. If you have a weak and bad signal, the battery will drain fast.
Step 3
Using Settings to save battery life, adjust some items to save battery life on your device.
Disable some location tracking. Settings > Privacy > Location Services.
Turn off App Notification. Settings > Notifications.
Set your auto-lock. Settings > Display & Brightness.
Set auto brightness. Settings > Display & Brightness.
Disable raise to wake. on iPhone SE/6S/7, Settings > Display & Brightness.
Stop push data from server to device when possible on Email. Settings > Mail > Fetch New Data.
Turn off AUTOMATIC DOWNLOADS. Settings > iTunes & App Stores.
Turn off Background App Refresh. Settings > General.
Turn on Low Power Mode. Settings > Battery.
Use Reduce Motion. Settings > General > Accessibility.