Apple is famous for its top-notch iPhone and iPad devices. However, even Apple can't prevent system issues from occurring on these devices. Every iOS update tends to bring complaints about system bugs and issues, like the iPhone getting stuck and iTunes failing to connect.
Fixing these system problems is not too complicated for tech-savvy individuals who have a good understanding of technology and systems. They can typically resolve the issue within a few minutes.
Yet, this might not be the case for you. Therefore, a simple, easy-to-use iOS system repair tool could be a great option.
Top 6 Best iOS System Recovery Software List – No Technique Required
There are numerous desktop-based system repair tools for iPhone and iPad. I've highlighted some of the best ones, in my opinion, that could be superior to the ones not listed. Please note that all these tools are commercial applications, and not all their features are available for free.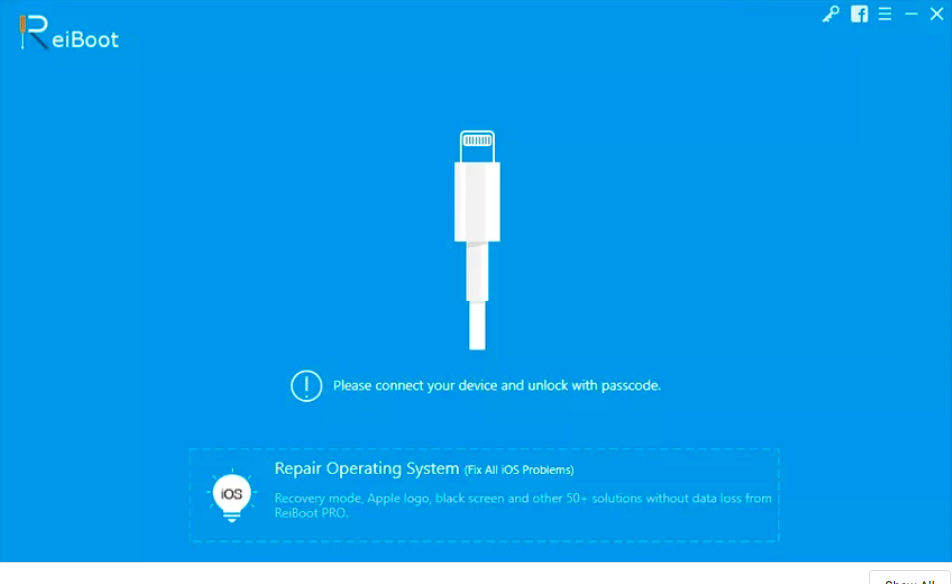 Reiboot by Tenorshare is a utility specifically designed for iPhone system repairs. With this tool, you can effortlessly solve over 150+ system issues that might occur on Apple devices, including Apple TV.
One benefit of Reiboot is that it allows you to fix an iPhone stuck in recovery mode for free (support.apple.com/iphone/restore error). Furthermore, it's fully compatible with the latest iOS 17 beta and iPhone 14. So, if you experience system issues during or after updating to the new betas, this tool is still effective.
2. iMyFone Fixppo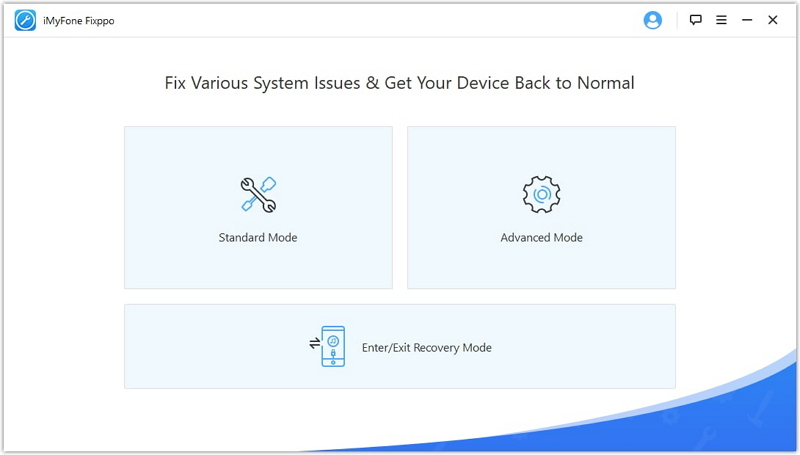 Fixppo, developed by iMyFone, is a professional iOS system recovery tool aimed at helping users restore their iOS device systems to normal. It's been endorsed by renowned tech sites like MacWorld and TechAdvisor.
Like Reiboot, Fixppo can assist you in resolving system hang-ups or connection problems when you wish to sync, update, restore, and back up your iPhone or iPad. Additionally, the free version also includes a feature for one-click entry and exit from Recovery Mode.
3. iMobie AnyFix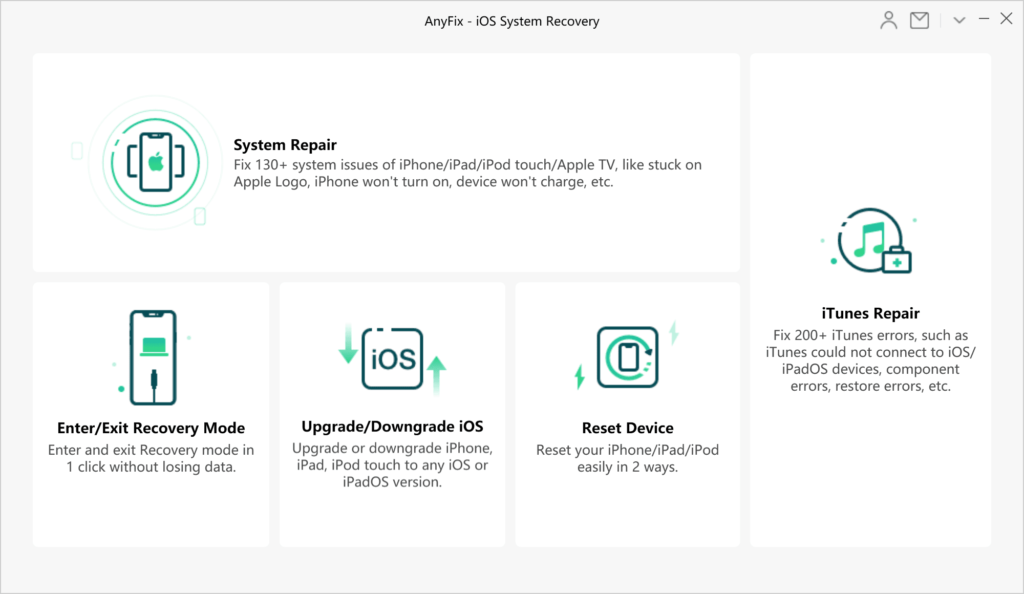 AnyFix is a newly developed iOS system repair tool by iMobie. This tool allows you to effortlessly resolve most iPhone, iPad, and iTunes issues, such as a disabled iPhone, an iPhone that won't turn on, a frozen iPad screen, iTunes connection failures, and more.
Like Reiboot, AnyFix also operates on a computer, requiring you to connect your devices before initiating the repair process. What sets AnyFix apart is its unique interface and an unmatched 60-day money-back guarantee.
4. Dr.Fone – System Repair (iOS)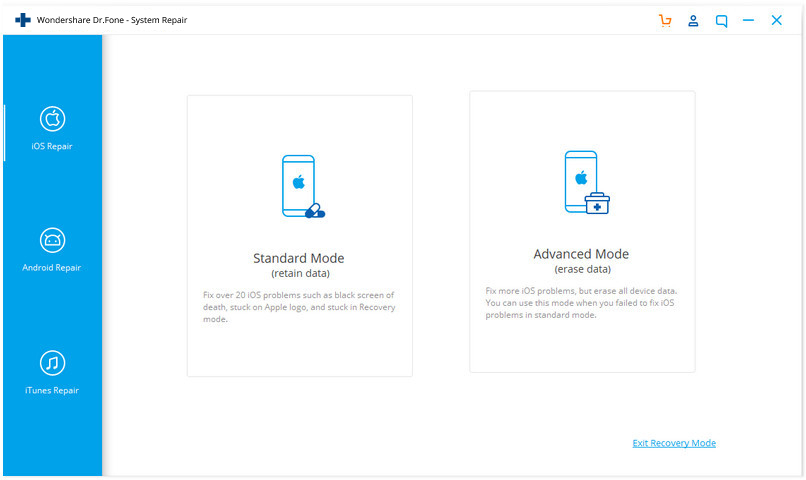 Wondershare Dr.Fone is a comprehensive solution for iOS and Android users, offering data recovery, data transfer, system repair, and more. Its System Repair tool is designed to address system issues. For iOS system recovery, this tool provides two modes – Standard Mode and Advanced Mode, similar to the aforementioned software.
The Standard Mode can be used to fix 20 common issues, like devices stuck on the black screen, Apple logo, or Recovery Mode. If the Standard Mode is ineffective, the Advanced Mode might help, but it has the downside of erasing all your data (much like a factory reset).
5, TunesKit iOS System Recovery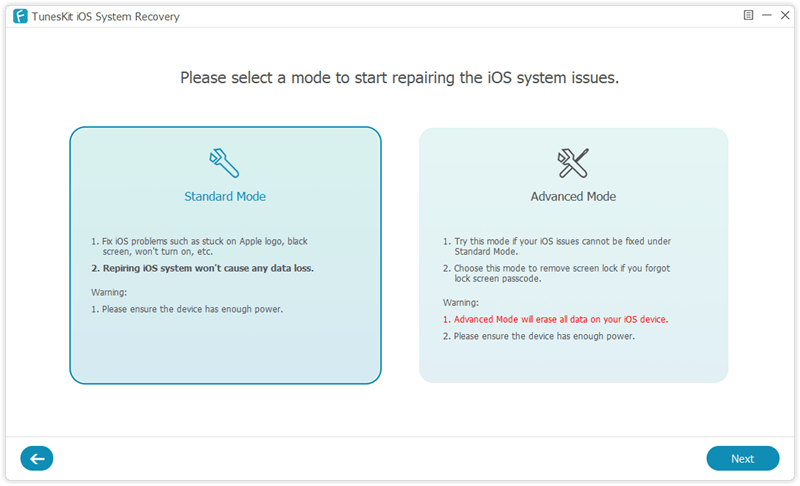 Tuneskit iOS System Recovery is another program designed to restore your iOS system to normal, and it can fix over 30 iOS issues. When you connect your device to this tool, you may find it very similar to Dr.Fone System Repair, as both programs share the same recovery modes and require firmware downloads.
6, RecBoot – Free iPhone System Recovery
RecBoot was developed by a small team named CoreDevTeam in 2013. This program originally works only on Windows computers.  In 2016, another team developed an edition for Mac. And all these programs aim to exit/enter the Recovery Mode of the iPhone/iPad.
RecBoot vs ReiBoot/Fixppo
RecBoot, after a long period without updates, is now considered outdated. It doesn't have any advantages compared to ReiBoot or Fixppo. However, this free software is still handy for some users of older iPhone models, helping them enter recovery mode or fix devices stuck on the Apple logo issue.
Criteria for Evaluating the Effectiveness of an iOS System Repair Tool
All the above tools aid you in resolving common iOS system-related issues, such as software crashes, system freezes, and even data loss.
However, the challenge lies in identifying which tool is right for you. As there are numerous options available, understanding key features and aspects can guide you in selecting the best iOS system repair tool.
Let's delve into the critical criteria that mark an efficient iOS system repair tool.
Compatibility: A good iOS system repair tool should be compatible with all popular types of iOS devices and iOS versions like iOS 17 beta. The tool should also support both Mac and Windows platforms. Examples such as Reiboot and Fixppo, are highly compatible with various devices and iOS updates.
Range of Problems Addressed: A useful repair tool should be capable of fixing a wide array of iPhone system issues. Some software can repair more than 150+ problems, which include devices being stuck in recovery mode, system hang-ups, iTunes connection problems, etc.
Ease of Use: A user-friendly interface is crucial for a good system repair tool. Users should be able to navigate through the software without too much technical know-how. AnyFix stands out in this regard with its unique and intuitive interface.
Success Rate: Check the tool's success rate in terms of system recovery and firmware downloading. Tools like Reiboot and Fixppo have shown stable performance in downloading firmware, which can contribute to successful system recovery.
Customer Reviews and Professional Recommendations: User reviews and professional recommendations can provide valuable insights into the tool's performance. A tool like Fixppo has been endorsed by renowned tech sites like MacWorld and TechAdvisor.
Safety and Security: The tool should ensure the safety and privacy of your data. It should not cause data loss during the repair process unless a more intensive method (like Advanced Mode in Dr.Fone) is needed and users are explicitly warned.
Pricing and Support: Consider the cost of the software and if it offers a free version or trial for initial evaluation. Reliable customer support is also vital for troubleshooting and assistance. A good example is AnyFix, offering a long 60-day money-back guarantee.
In summary, a good iOS system repair tool should be highly compatible, able to solve a wide range of issues, user-friendly, have a high success rate, receive positive user reviews and professional recommendations, ensure user data safety, and offer reasonable pricing and reliable customer support.
Conclusion (My personal take)
In essence, the theory behind all these iOS system recovery programs is quite similar. Most of them will restore your device to factory settings and then update it to the latest firmware using backup data.
In my personal view, I prefer AnyFix due to its unique and user-friendly interface. However, test results showed that Reiboot and Fixppo were more reliable in downloading firmware compared to others.