Apple WWDC announced the news of iTunes being killed in the macOS Catalina. Three different apps will replace the media management feature of iTunes. The iOS sync, backup and restore feature will go to the Finder app, continuing serving you to back up your valuable information and files.
So how to use the Finder to manually backup iPhone on macOS Catalina? Are there any differences?
Being one of Apple developers, I am able to download macOS Catalina beta installer to get the first hand of this update for a test. And the process of making an iPhone backup on Catalina is almost the same as it in the previous macOS.
The only difference is that all these features now work on the Finder app, instead of the iTunes app. Just follow me to experience the new iPhone backup and restore process for the 2019 macOS big update – Catalina.
Step 1. Go to Finder > Locations (Left Navgation), then you'll find your iPhone icon.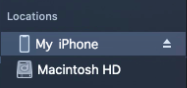 Step 2. After you choose your iPhone, you will get the management panel for your iPhone. And there will show you several menus for Sync, Backup and Restore data on your iPhone devices.
Step 3. Just select General selection, you can find the Back Up Now option helping you make iPhone backup manually on Catalina.

Step 4. The following steps are as same as it goes before while using the iTunes app. You can follow the onscreen steps to finish all the backup process.
Backing up iPhone on Catalina takes minutes or hours, depending on what is stored on your device, macOS processing speed and USB/Wi-Fi connecting speed.
How to Restore iPhone on Catalina?
On the General section, the button Restore Backup…, still plays the role of letting you restore the device from the backup you've created.
The Differences?
The difference is that a new button named Manage Backups helps you quickly manage the iOS backups on your Mac computer. (This button is previously not provided. )

Conclusion
Although the iTunes app is gone from the coming macOS Catalina, the basic features of iTunes still exist on the separated apps, like music and finder. For someone who thought iTunes is bloated, this change could be good news. since it makes the thing simple to manage specific data across Apple devices.
For people who are willing to sync, back up and restore iPhone on Mac computer, the new macOS Catalina still works using the new Finder, and this method is simple, reasonable and natural, and people will quickly get used to it.