iPhone notes app is the default app that people use to record shopping list, to-do list, writing inspiration and so on. And the iOS updates improves the notes app to be better every time and make the noting easy and funny.
However, there are always some users facing update issues and  suddenly losing notes from their iPhone.  If you are one of these guys, this post may be helpful for you to get them back. And let's check why your notes disappear? And get some free tricks to retrieve your notes back.
Why did my notes on my iPhone disappear?
You can run your Notes app on your iPhone, and your'll find there are some folders, like iCloud, Gmail and On MY IPHONE. These folders tell that the notes are usually stored on iPhone hardware and cloud storage.
Some people may find Cloud notes missing from while others may find On My iPhone notes disappeared. And now lets check the reasons why these notes disappear.
Reason 1. Forget to turn on Cloud Notes.
For people who like to store notes using cloud storage, they may get all cloud notes disappearing after iOS update since they may easily forget to turn on the cloud service to sync notes back to their device after software update.
Reason 2. iOS Update Errors.
Surely, some errors and bugs may occur during the update. And this may delete your note contents with the pictures and attaches. In this case, the iPhone backup will be the lifesaver to get notes back to iPhone.
Reason 3. Manually Deletion.
The notes may deleted by some people or mistakenly removed by you. If you are luck, you may find these deleted notes on the Recently Deleted Folder.
How to Retrieve Missing Notes from iPhone
Based on the reasons, there are some free tips you can follow to retrieve your missing notes from iPhone.
1. Retrieve disappeared Notes from Cloud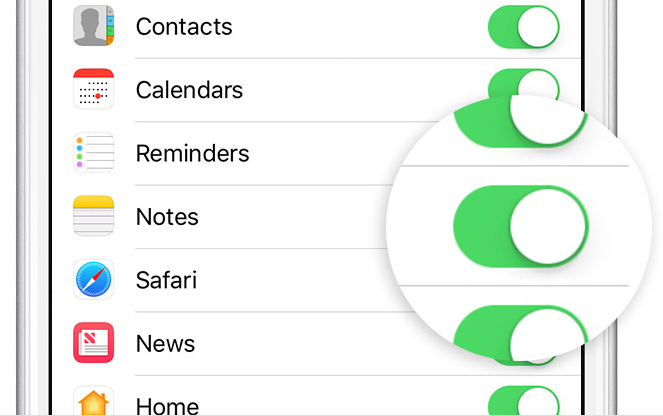 If you have synced notes from iCloud, Gmail or some other cloud storage service to your iPhone, you can get your cloud notes back by turning on notes sync using the accounts.
Go to Settings app > Passwords & Accounts.
Choose Account and tap to turn on Notes sync.
2. Recover all Notes from iPhone Backup
Think back, have you backed up your iPhone to iTunes or iCloud? If you have done some backups, you have chance to get back all of your disappeared notes from iPhone, cause the backup may contains your lost notes.
Apple posted article about how to restore iPhone from backup. And you can restore your device to get your disappeared notes from the iPhone backup.
Some iPhone backup viewer help you preview notes on iTunes backup and iCloud backup. Thus if you are not sure whether there are the missing notes and attached images stored on backup, you can have a try on the tools.
3. Recover Notes from Recently Deleted
Manually deleted notes will be automatically stored on Recently Deleted folder for 30 days before they are permanently erased from your device. So just check the Recently Deleted folder on your Notes app to restore them back.
4. Find an expert to get back missing notes
If all of these methods can't solve your problem to get back your important notes, you can Google an iPhone recovery service and call them to recover your missing notes. And here we also listed some iPhone data recovery software that you may like to have a test.